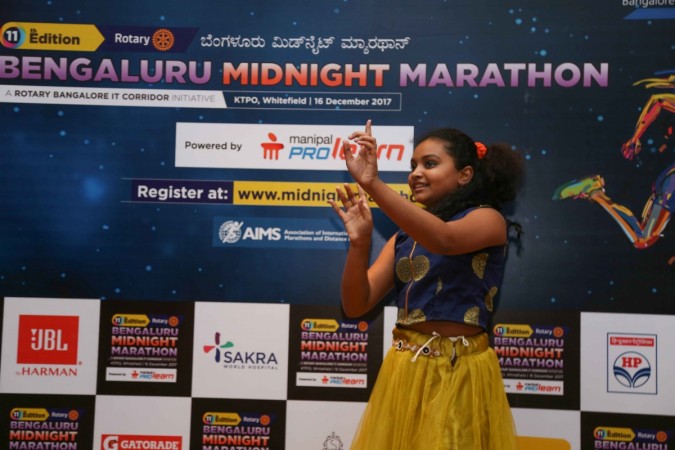 The 11th edition of the Bengaluru Midnight Marathon, organised by the Rotary Bangalore IT Corridor charitable trust, gets under way this December.
Unlike the Airtel Delhi Half Marathon, which gave some major headaches to the participants thanks to the unbearable air pollution, the runners for this marathon in Bangalore are destined to have a pretty smooth and peaceful race.
The race is scheduled on December 16-17, 2017 at the Karnataka Trade Promotion Organization (KTPO) venue in Whitefield. The main objective of it is to create a platform to raise funds for health, education, social welfare and rural enlistment projects.
Map of the venue
As the name suggests, the race begins at midnight (12 am).
Key info of the race:
- The individual events include the Community Relay, 5k IT City Fun Run, AIRBUS Corporate Relay, Open 10K, Full Marathon, and Half Marathon.
- Cash prizes will be for the participants from the 10k, Half & Full Marathon events only. Also, the Indian winners in each categories will be rewarded.
- Registration for 10k Run, Half & Full Marathon will remain open till 11:59 pm on 10 Dec, 2017
- Online Registrations for 5k IT City Fun Run close at Midnight on December 15, 2017. Registrations for the 5k Run can also be done at the EXPO (From 14-15 Dec. 2017) directly and at KTPO on Dec 16, 2017 until 4pm only.
- On the spot registrations for 5k IT City Fun Run will remain open from 9am to 4pm ONLY on Race Day i.e. December 16, 2017 at KTPO, Whitefield.
Registration fees:
- Registration Fee for IT City Fun Run – Rs. 500/- + GST, per individual
- Registration Fee for 10k, Half and Full Marathon – Rs. 1,000/- + GST, per individual. Includes compulsory timing chip. Eligibility – 14 years for 10k Run and 18 years for Half and Full Marathon, as on Dec. 16, 2017
Interested marathoners and athletes passionate for an enjoyable run across the city of Bangalore can register themselves as participants for the Bengaluru Midnight Marathon by clicking HERE.