The garden city of Bangalore has received its highest rainfall this monsoon, breaking all the previous records, according to the Indian Meteorological Department (IMD). The city recorded around 1615mm of rainfall this year, crossing the previous record of 1606mm rain in 2005.
Over 300mm of rainfall has been observed only in first few days of October alone, which is much higher than the prediction of IMD for the month, the TOI reported quoting IMD officials. The department had estimated that the city would receive around 160mm of rainfall in the period.
The southwest monsoon is intensifying and there are no signs of relief from the continuous downpour in the days to come.
Indian Meteorological Department (IMD)
Ramesh Babu, one of the directors of IMD, was quoted by TOI as saying- "Bengaluru is currently going through a transition phase between the withdrawal of the south-west monsoon and the arrival of the northeast monsoon."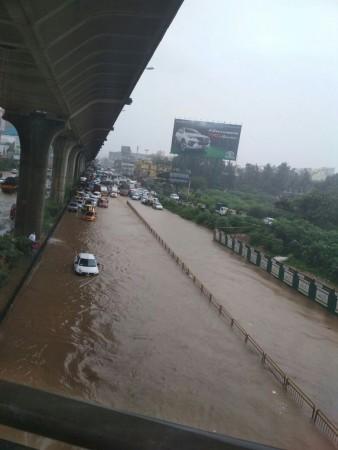 "Usually by this time, the northeast monsoon would have arrived. This year, it is delayed due to many active systems over the peninsula and Western India, he said.
"The withdrawal phase of the southwest monsoon has been delayed by 10-12 days, and it is still active. Bengaluru lies in the transition belt and thus, receives a bounty from both the southwest and northeast monsoons," the IMD director added.
IMD Bangalore receives its data on monsoons from Doppler Weather Radar (DWR) in Chennai. Referring to the DWR systems in India, Babu said that the IMD Bangalore has started installing DWRs in the state.
Referring to the forecast data received by IMD Bangalore, Babu added: "We've placed orders for our own DWRs and groundwork is ongoing. By next year, they should be installed in Bengaluru, Mangalore and Anantpur."
Pathetic roads and heavy rain
The road density in Bangalore is supposedly the highest in the country. According to a report by City's Municipal Council, there are over 15,500 potholes in the city.
The pathetic potholes on the streets together with the heavy rains make life difficult for the Bengalureans . Major areas of the city including Devanhalli and Mysore road, have reported casualties in the past few days due to 'crater like potholes' and waterlogged streets. Traffic comes to a standstill for hours in the city almost all evenings, thanks to the waterlogged roads.