Exactly on the day we reported on how daily commute to work has become a nightmare for people in Bengaluru due to the pathetic condition of roads in the city, two journalists working with International Business Times, India, met with an accident on Friday (October 13) evening due to this very reason.
Must read: Bengaluru's pathetic roads: When daily commute to work becomes a nightmare!
The mishap happened at around 7 pm near a subway in Diary Circle when Ankita Mehta and Dishya Sharma were on their way back home on a two-wheeler.
With no street lights along the busy stretch, Dishya had limited visibility on the damaged road, and the duo fell when their two-wheeler hit a huge pothole in the middle of the road.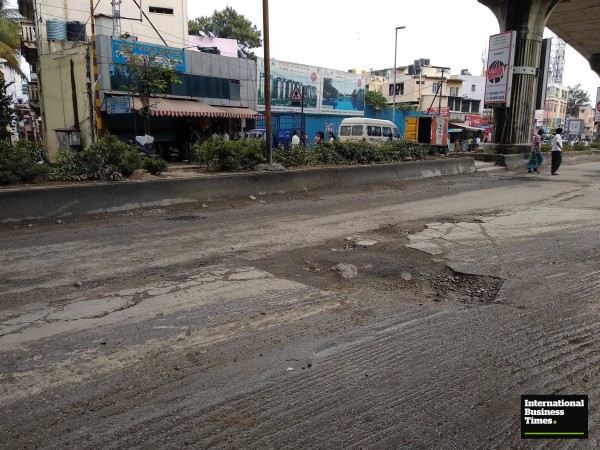 "I did not foresee the damaged road and rode right into the hole to finally fall on my face and my friend fell on her right arm. Ankita's entire right arm is injured and I hit my forehead which is now swollen (the helmet stopped serious damage) and I've injured my knee so bad that I am unable to walk properly – my vehicle screeched through the road, [sic]" Dishya wrote on her Facebook account after the incident.
"Thankfully, a woman who was heading to Jayanagar took us to the Sagar hospital," Ankita said later.
The two journalists, along with IBTimes India, are now asking if the authorities are waiting for more people to die before they take action in this serious matter, which has already claimed the lives of many in the city, especially in the span of the past 10 days or so.
Read more: Bengaluru Mayor Sampath Raj blames heavy rains for floods and broken roads [VIDEO]
"I want to ask the authorities – how long? How long does Bangalore need to wait for proper roads? While we were lucky that there were no casualties in this incident but are you'll waiting for more people to die before mending the roads? [sic]" Dishya wrote on her post.
Read the Facebook post of Dishya here: