While it normally takes 45 minutes for me to ride to my place of work from my home every day, now the same commute (Kaggadasapura main road to Corporation circle) takes about a one-and-half hour, double the usual time, as I dodge through innumerable potholes along the way.
Every time I begin my commute following a heavy downpour has become a matter of life and death as the crater-like potholes are increasing by each passing day.
Especially, if that stretch of the road is an unchartered territory, crossing each puddle of water, which is no less than a mini-pond, becomes an uphill task.
Read more: Bengaluru's potholes lead to 4 deaths in 10 days
The Kaggadasapura road despite being a busy stretch with Bagmane Tech Park, Defence Avionics Research Establishment and Defence Research and Development Organisation among other important institutions, cries for attention, at least with temporary repairs, as officials turn a blind eye.
Fed up with civic apathy, residents of Kaggadasapura, CV Raman Nagar and GM Palya, held a silent protest on October 11 by declaring the road dead and performing its last rites. A dummy grave was made on the road where the protesters placed wreaths and even lit candles.
The protest seems to have made some impact as workers were seen filling the potholes the very next day. Nevertheless, it's just a temporary solution as these 'graveyards' are back to business following the downpour on Thursday night.
The below photographs taken on Thursday night and Friday morning show the grim reality.

It was only in April that most of these potholes were partially repaired with a few patchworks here and there. However, within three months, the Kaggadasapura Main Road has turned worse with the previously filled-up potholes coming back to life along with new ones, making us wonder what kind of shoddy work the civic authorities carried out.
Bangalore Mayor Sampath Raj, without a second thought, had pinned the blame on the incessant rain; but the taxes were collected by the BBMP, not the rain god, right?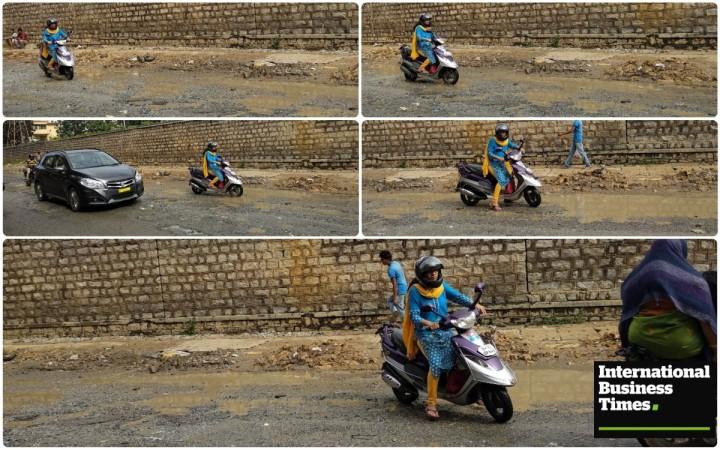 However, the story is not just limited to Kaggadasapura, even the busiest Indiranagar CMH road, Halasuru metro station and Trinity Circle too have their own share of 'craters' making the two-wheeler riders quake in their boots as they commute to work every day.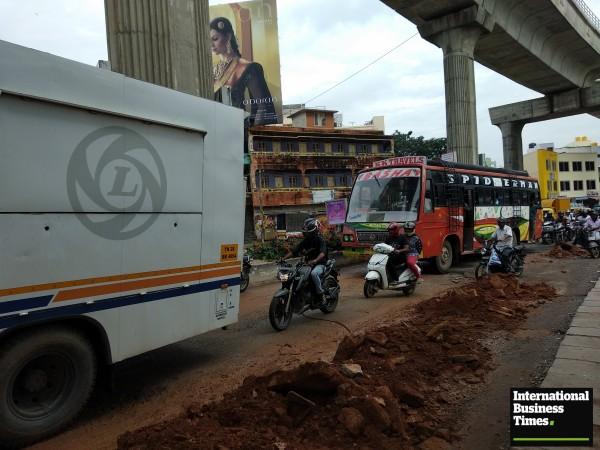 Also check: Bengaluru Mayor Sampath Raj blames heavy rains for floods and broken roads
According to recent reports, BBMP identified 15,935 potholes in the garden city. Given that I personally identified over 200 of them on a regular route, the BBMP number isn't surprising.
Citizens vent their anger
"I use this road everyday for the past one year and sadly I have never seen this stretch sans pothloes. I have seen people, may be new to this road, losing their balance while riding bikes. Since I know where exactly the danger spots are, I somehow manage to ride through large puddles. Still, its very risky as new potholes form these days," said Anandashekhar R, who works at a retail shop near Kaggadasapura.
"I think the BBMP authorities are waiting for someone to die here. They are likely to respond only after that," lambasted a furious housewife Meera Vasudev.
Roads getting washed away during the rainy season has become a recurring issue every year. Hope the authorities, for once, realise their responsibility to serve the people and come with a permanent solution to this never-ending urban infrastructure crisis.
Take a closer look at the daily grind of surviving these dangerous roads: