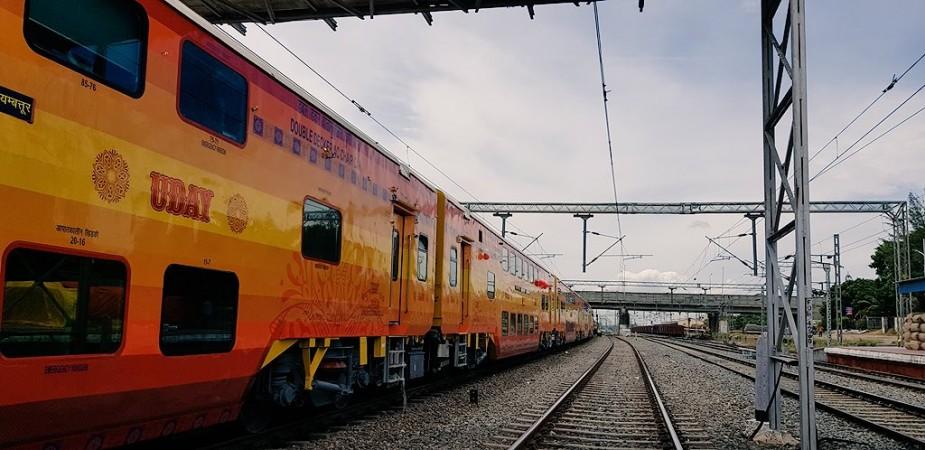 The much-awaited Uday Express, a new double-decker air-conditioned train from Bengaluru to Coimbatore, was flagged off by Minister of state for railways Rajen Gohain on Friday, June 8. The express train is said to be the first train to Bengaluru originating from Coimbatore.
On its first day, the train departed from Coimbatore Junction at 10 am and reached Bengaluru at 5.20 pm. It had nearly 150 passengers who were part of the train's maiden journey.
Painted in bright orange and yellow colour, the train's inaugural function took place in Coimbatore, Tamil Nadu. It was, however, delayed for almost one hour and 20 minutes, The Times of India reported.
Among those who participated in the ceremony were Union minister of state for finance and shipping Pon Radhakrishnan, Tamil Nadu minister for municipal administration S P Velumani and deputy speaker at the state assembly Pollachi V Jayaraman.
From June 9 onwards, the train will depart from Coimbatore Junction at 5.45 am and arrive in Bangalore at 12.40 pm. Later it will leave from Bengaluru at 2.15pm and reach Coimbatore at 9 pm.
The train runs at 160 kmph and takes around 7 hours to complete the distance between the two cities which are 378 kilometres apart. Except for Mondays, the train will operate on all the other days with halts at Tiruppur, Erode, and Salem railway station, the daily reported.
UDAY is the short form for 'Utkrisht Double Decker Air-Conditioned Yatri' Express. The train is equipped with a Wi-Fi-based infotainment system, food vending machine, and even GPS-based passenger information system.
There are LCD screens available which show the upcoming destination and passenger information. It also has a mini dining area inside the train, reports The Economic Times.