Chennai Central railway station was painted yellow Thursday, April 19 morning. Close to 1,000 CSK fans from across all age groups started their journey to Pune in a special train — Whitlsepodu Express — to cheer for MS Dhoni's men during their "home game" against Rajasthan Royals at the Maharashtra Cricket Association Stadium on Friday, April 20.
"We were initially disappointed over the decision to shift matches to Pune. We were expecting a venue in Kerala as we believed it would be easier to travel to the neighboring state and support the team. But this is an unprecedented move from Chennai Super Kings' management, we are extremely happy," Sriram, joint secretary of the franchise's official fan club — Chennai Super Kings Fan Club tells International Business Times, India.
CSK themselves had arranged the train after joining hands with the Southern Railways. The franchise has taken care of all the expenses, including train tickets, accommodation, food and local transportation in Pune.
What began as a disappointment for CSK fans has turned into one of the most memorable episodes of the ongoing 11th season of Indian Premier League (IPL).
Cricket fans in Chennai had celebrated CSK's homecoming by turning up in large numbers at the MA Chidambaram Stadium for their first home game in three years against Kolkata Knight Riders earlier this month.
However, the excitement was short-lived as the Board of Control for Cricket in India (BCCI) decided to shift CSK's matches out of Chennai, citing lack of security due to protests over the Cauvery issue in the capital city of Tamil Nadu.
Fans fist: The story behind CSK's Whistlepodu Express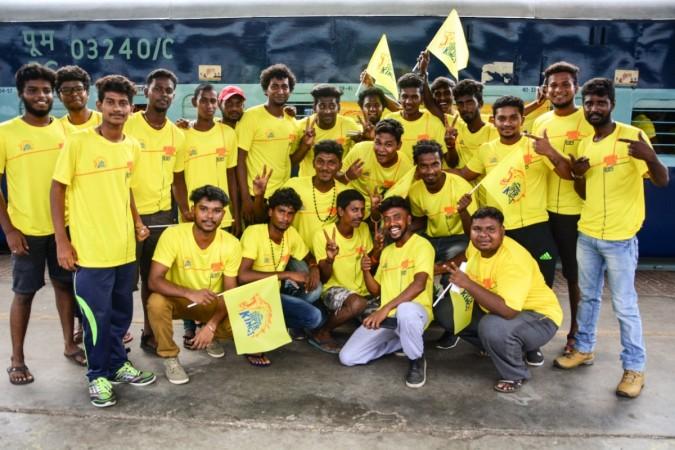 Chennai Super Kings Fan Club, popularly known as the "WhistlePodu Army" had approached CSK's management with a request to help a few traveling fans with passes for matches in Pune.
However, CSK came up with a pleasant surprise when they booked an entire train for their traveling fans. A total of 13 coaches, including an air-conditioned coach, is full of members of the Yellow Army.
"We started this fan club two years ago after CSK got suspended. Over the last two years, the fan club grew steadily and thus we had planned to attend all home matches this season. A few members wanted to go to away matches," Sriram said.
He added: "However since the home matches got shifted out of Chennai, many fans wanted to travel to Pune and cheer for the team. So we proceeded with a request to the management.
"We just requested them to arrange a few tickets but they discussed and booked an entire train for the fans.
"We approached them to give us a number and we thought of sending different batches of fans for every match. However, they arranged the special train. We all know how much CSK respects its fans and this is yet another proof of it.
"Around 800 to 1,000 of CSK fans are traveling to Pune. From young kids to families, people from across age groups are part of the traveling fans.
"They will reach Pune tomorrow (Friday) and start their return journey on Saturday morning."
Superfan super excited about CSK's gesture
Meanwhile, Saravanan Hari, popularly known as CSK Superfan, who is part of the traveling contingent, called it an "unbelievable experience". The man, who drenches himself in yellow during IPL matches involving CSK, said the fans are raring to bring out the whistles Friday.
"I don't know if other teams will do something similar to their fans. It's like CSK are telling us "neenga vantha mattum pothum (a famous dialogue from superstar Rajinikanth's blockbuster 'Sivaji', which roughly translates to 'it's more than enough if you just come'),"Saravanan, who revealed that the train had reached the Andhra Pradesh town of Renigunta, said.
He added: "This is an unbelievable experience. I am enjoying this more than my school and college tours. More than 1,000 people have come together for CSK. I am very happy about it.
"We are looking forward to cheering for the team with whistles tomorrow. More than just cricket, CSK has become an emotion for us."
Meanwhile, Sriram is not sure if the fan club would approach CSK for similar arrangements in the future. However, he is confident that the two-time champions themselves will take the initiative for the upcoming matches in Pune.
பார்த்தாயா எங்கள் அணியின் ரத கஜ துரக பதாதிகளை". அமெரிக்காலயே போய் நீங்க மேட்ச் நடத்தினாலும் விசில் போட தார தப்பட்டையோட எமை வாழ்த்த தேரேரும் என் தமிழினம்! உங்கள் அன்புக்கு நானடிமை!நீங்க வேற லெவல் மாஸ் யா @ChennaiIPL@CSKFansOfficial அன்பிற்கும் உண்டோ அடைக்குந்தாழ் #pune get ready pic.twitter.com/SV9dDBUTnG

— Harbhajan Turbanator (@harbhajan_singh) April 19, 2018