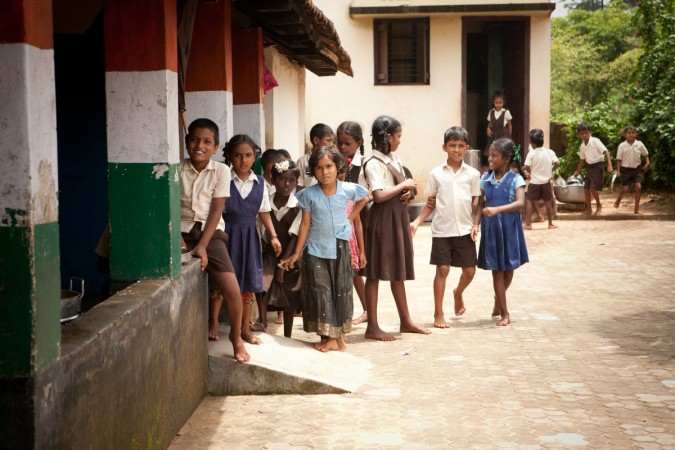 A child's worst nightmare came true in Bengaluru when her class teacher progressed from beating her to forcefully undressing her in front of her peers in school.
Also read: One-third of Indian students feel schools are unsafe, corporal punishment and bullying feared, says global survey
A parent took to Facebook recently to expose the East Wood High School, Ulsoor where caning students and publicly shaming them is common practice. She has since started a petition on Change.org demanding action against the school.
"I have not sent my child to that school from Monday. We have filed a case with Karnataka Child Rights Commission," Susmita Nanda Dash, a blogger who lives in Ulsoor, told the International Business Times, India. The representative of the KCRC reportedly found that there was no CCTV camera on her daughter's floor despite being told that there are.
Her five-year-old daughter was stripped in front of her classmates and the teacher encouraged her classmates to chant "shame shame puppy shame" to her. The teacher had told Dash that her daughter was not good in studies and needs the corporal punishment.
She alleged that the class teacher, Thahseem, started beating her daughter, who is in nursery, in June 2016 and she had asked the teacher to stop the corporal punishment.
We tried to get in touch with the school, but did not receive a response until the time of reporting this story.
Dash, originally from Odisha, said that she is under pressure from other parents to not go forward with her complaint as the school is receiving a bad reputation and might shut down because of the human rights violations.
The blogger also narrated her harrowing experience at the Ulsoor Police Station after being asked to file a complaint there by the sub inspector. However, after her experience at the police station, she and her husband decided not to file an FIR.
She claimed that other students have also faced harassment and abuse at the hands of the teacher, adding that the problem is with the management and the principal since they condone the behaviour. She claimed that in the last 10 months she has managed to catch hold of the principal only once.
She added that she would have to change schools and relocate to an area with an affordable ICSE school. She claimed that the East Wood High School took Rs. 50,000 non-refundable donation and it would be an economic burden for her to transfer schools. However, she is set on going through with it despite final exams around the corner.