Ben Affleck and Batman became a synonym for each other ever since Warner Bros. decided to cast him as Bruce Wayne in the superhero movies. Affleck's performance was appreciated by many in Batman v Superman: Dawn of Justice as well in Justice League. However, over the months it is being rumored that Jennifer Garner's ex-husband is reportedly not involved in the future standalone superhero films.
In February 2017, Cloverfield director Matt Reeves was hired by Warner Bros. to direct and a Batman film set within the DC Extended Universe, titled The Batman. As of now, Reeves' The Batman movie script is close to completion, and a likely production start-date is set in the spring of 2019. The biggest question in everybody's mind is who will be portraying the titular role.
The latest rumor indicates that Argo movie star, Ben Affleck, is leaving the role of Bruce Wayne/Batman. In addition to this, Reeves is looking for a considerably younger Caped Crusader. Most recently, Forbes' Mark Hughes stated that Ben Affleck is done representing the savior of Gotham.
Check out the tweet:
He's not Batman in this movie. As of now, there are no plans to involve Affleck, and the situation behind the scenes is that he's been arranging his exit from the DCEU for months. I know fans hate to hear this, but it's time to prepare yourselves for Batman without Affleck.

— Mark Hughes (@markhughesfilms) July 30, 2018
Affleck was initially set to direct and star in The Batman, but Matt Reeves took over. Ever since Batman v Superman: Dawn of Justice released and #SadAffleck became a meme due to how the actor reacted to the movie's critical response, many wondered that Affleck will quickly find a way to leave the project.
"I think there are a lot of different possibilities in the way the DC Universe could go, and I will just follow my interests in pursing that. And I know that I love working with this group of people, and it was a real joy for me to make [Justice League]," Affleck said during an earlier interview.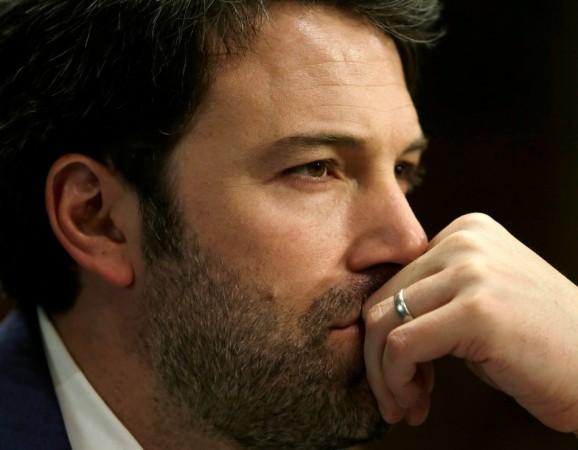 In the wake of recent rumors, many are wondering who would be the best choice to portray Bruce Wayne in the upcoming DCEU movie. Many even wondered if Christian Bale would reprise his role from Christopher Nolan's Batman trilogy.
Forbes's Mark Hughes further added that Jake Gyllenhaal is the leading contender to play Batman. However, the 37-year-old Jake is cast to play the antagonist in the Spider-Man movie titled Spider-Man: Far From Home. So, the chances of him playing the Cape Crusader are pretty slim.