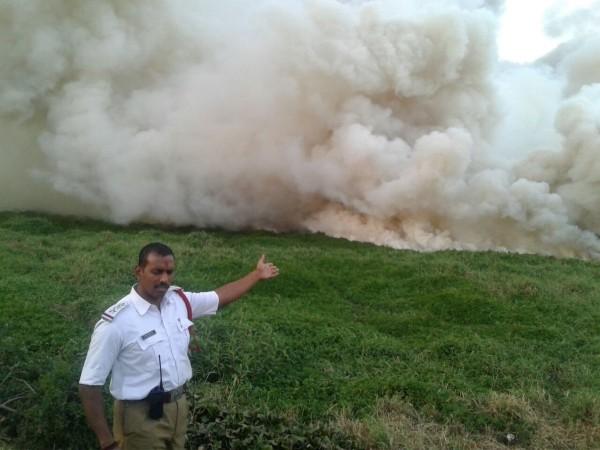 Bangalore, once known for its numerous lakes and pleasant weather, is facing the brunt of unscientific development. The lakes, especially Bellandur lake, in India's Silicon Valley are the worse for wear. The National Green Tribunal on Tuesday summoned Karnataka Urban Development and BBMP officials after it failed to comply with the directions to clear toxic foam in Bellandur lake last week.
Bellandur Lake has been spewing foam to the roads since last week. Residents have complained of foam blinding motorists leading to accidents. The lake has already caught fire thrice, the latest being in February.
The green court said it would hold a day-to-day hearing from April 19, which signifies the urgency of the matter. The Karnataka State Industries and Infrastructure Development Corporation (KSIIDC) will be impleaded as a party. The chief secretary of the state has been directed to be present during the hearings.
"Why did the government departments block the implementation of NGT orders? How is the government plans to treat sewage and what kind of treatment is done right now," asked NGT.
Only 230 out of 480 MLD sewage discharged into the late has been treated, said Additional Chief Secretary of Urban Development in court. However, the Karnataka State Pollution Control Board (KSPCB) contradicted the government's statement in the court. The NGT asked the both departments which of them were lying.

The court pulled up the government after a video of toxic foam from the lake flying around on the streets nearby went viral. The foam in the lake is swelling since Friday morning. Factory waste and sewage have propelled the water pollution levels in the city. In 2016, thousands of dead fish were found floating in Ulsoor lake.
"We have noticed that the foam usually starts to increase during the weekend and it spills around and hits the motorists," a resident nearby told the TOI.
The green court has issued notices to the Centre, Bangalore Development Authority, Lake Development Authority (LDA), KSPCB, and other departments for not dealing with the sewage menace.
NGT took up the case suo moto in February following the Bellandur lake fire.