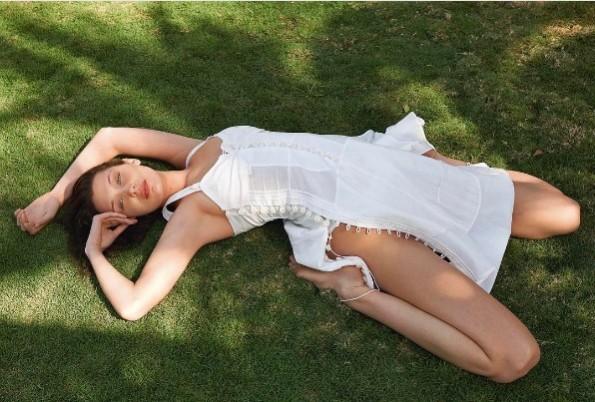 Forget the wardrobe malfunction at Cannes Film Festival 2017, Bella Hadid's recent photoshoot for a magazine will leave you stunned. The Victoria's Secret Angles looked stunning as well as sensual when she posed for 032c magazine's latest issue.
For the shoot, Bella channelled different looks in casual t-shirts, thongs, leather jackets and skimpy bikinis, and several of them feature her topless. The photos, by photographer Collier Schorr, show Bella posing with chains, playing with hats, veil, and sporting 80's glam with a retro inspired curly hair.
Also Read: Bella Hadid can't seem to escape wardrobe malfunctions; model has yet another oops moment at Cannes
In one of the photos, she is topless covering her modesty with her hands, while in another she is seen wearing a black bikini and holding a chain. In one photo, she is seen wearing a just a leather jacket covering her breast with her hand. In another photo, she is seen wearing a hat, shirt, and black boots. Whereas the magazine cover photo, shows Bella posing topless, wearing leather pants with belts and covering her modesty with hands.
The magazine photoshoot pictures appeared at a time when there are rumours of her dating British boxer Anthony Joshua. The model and the boxer are reportedly sending flirty messages to each other.
"When they first met they chatted and got on well, but Bella took a bit of a shine to Anthony. Since they met she's kept up with his career and has been subtly hinting at her interest with some interaction on Instagram – and he has been reciprocating," The Sun quoted source as saying.
Bella has moved on from her past relationship with The Weeknd and is now focusing on herself. "It's like I'm finally getting to the point where I can just think about what I want to do and the places I want to go," she told Grazia magazine about her life after the breakup. "I want to be as independent as possible and worry about myself rather than anyone else."