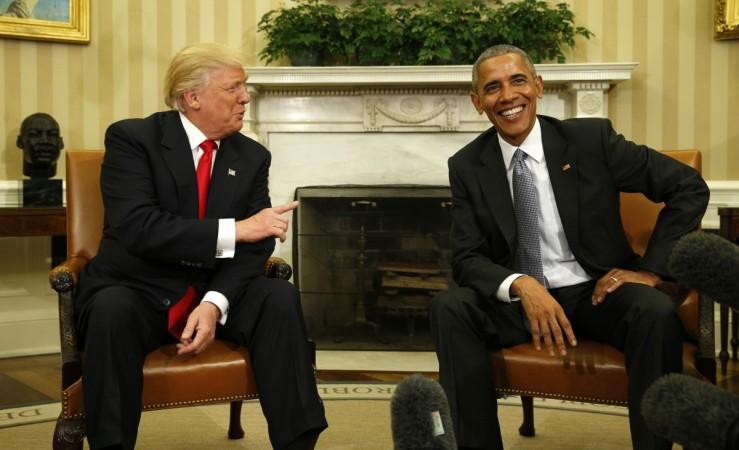 US President Barack Obama made a rare trip to the Capitol Hill to defend his healthcare bill as he urged his fellow Democrats to fight for Obamacare even as the Republicans pushed forward to repeal the healthcare law. Vice president-elect Mike Pence was also present at the Congress telling fellow Republicans that Obamacare would be replaced.
Obama provided several arguments in favour of keeping the Affordable Care Act, a law that has provided health coverage to around 20 million people, and also acknowledged his failure "in selling the law in its entirety to the American people."
While Obama did not ask the Democrats to block all attempts to alter the law, he warned them against "rescuing" Republicans by defecting on votes that would dismantle it, the New York Times reported.
After the meeting at the Capitol Hill, Democratic representative Elijah Cummings told reporters Obama had "encouraged us to fight" to protect Obamacare. Others also said that Obama had urged them to "stay strong" as Republicans take over the White House and both chambers of the Congress for the first time in a decade, BBC reported.
The Affordable Care Act has created online insurance marketplaces, offered protection to people who sought health insurance, and provided coverage to millions of people close to poverty line through expanded Medicaid. According to health policy experts, the system could collapse if Republicans do not provide funds for expanded coverage and stop penalties for people without health insurance.
The Democrats have promised aggressive resistance and said that they would not take part in deciding on a replacement for the law. They showed little interest in helping Republicans decide on what to do after repealing the law.
Senator Chuck Schumer of New York said that repealing the law would "make America sick again." He said that the Republicans would eventually "regret that they came out so fast out of the box" adding that Democrats would consider helping only if Republicans came up with their own replacement plan.
"If you are repealing, show us what you'll replace it with first. Then we'll look at what you have and see what we can do," Schumer was quoted by NYT as saying.
The Republicans have already voted by 51 to 48 to take up a budget resolution that would repeal major parts of the law and thereby starve the programme of funding.
"The American people voted decisively for a better future for health care in this country and we are determined to give them that," Mike Pence said. The party used a procedural approach that would allow them to repeal major parts of Obamacare thereby prohibiting Democrats to mount a filibuster in the Senate.
However, the Republican Party admitted that replacing Obamacare would take more time.