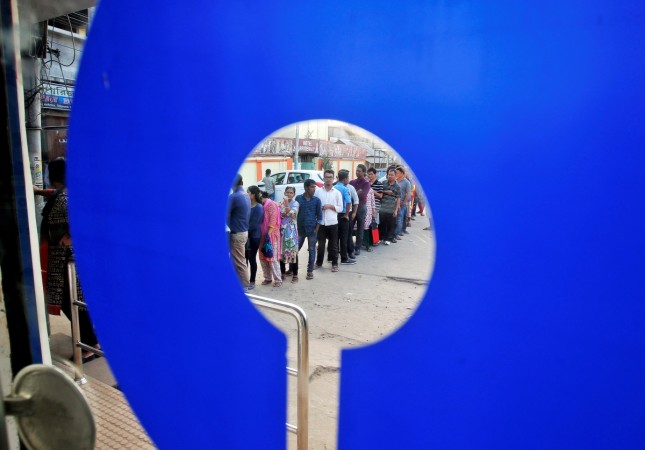 HDFC Bank, ICICI Bank and State Bank of India have announced cut in deposit rates, in what can be seen as a cue for other lenders following the surge in deposits.
ICICI Bank reduced interest rate to 7.10 percent — from 7.25 percent earlier — on fixed deposits of terms between 390 days and 2 years with effect from Wednesday.
HDFC Bank will now offer 6.75 percent on deposits of up to one year, a reduction of 25 basis points and 6.50 percent on maturities ranging from more than one year to five years, as against 6.75 percent earlier.
SBI has collected Rs 1,14,139 crore over the seven days beginning November 10, reports PTI.
State Bank of India also reduced interest rates on deposits for select tenors while retaining the rates for other maturities.
Deposits held for one year to less than three years will fetch lesser interest (down 15 basis points), according to an update by the bank.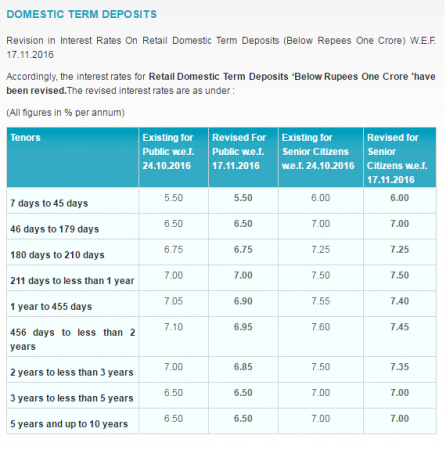 The verbal slugfest between the government and the Opposition will continue; so will the woes of the common man who has been put to hardship ever since the Modi government scrapped the Rs 500 and Rs 1,000 currency notes.
But banks are poised to reap the benefits in many ways. Among other gains, lenders are set to see their CASA ratio improve substantially with little effort giving them elbow room to make borrowing cheaper.
CASA ratio refers to current account, savings account ratio, that is the proportion of these deposits to the overall deposit base of a bank. The significance of CASA is that these are low cost funds for banks as compared to time deposits and therefore improve the margins for them. While banks do not pay interest on current accounts, most of them pay 4 percent on savings accounts.
In its analysis, brokerage Equirus Securities Private Limited (ESPL) said that the deposit surge is likely to lead to higher CASA ratio for the banking sector.
"We expect systemic CASA ratio to improve by ~150bps as incentives for people to invest in physical assets decline and people are drawn towards financial investments. So out of the cash that gets exchanges/deposited, we expect at least 15% of it to stay in the banks on a sustainable basis," ESPL said in a note.
Based on the results for the second quarter (Q2, FY2017), Axis Bank, HDFC Bank and ICICI Bank had CASA ratio of 44.70 percent, 40.41 percent and 45.71 percent, respectively, according to the brokerage.
In comparison, public sector banks have comparatively lesser CASA ratio, barring State Bank of India (SBI) at 42.74 percent. For instance, the ratio was 35.39 percent for Punjab National Bank and 27.29 percent for Bank of Baroda.
Borrowers to gain
The spike in deposits has resulted in lower interest rates on deposits, and consequently, lending rates are bound to go down in the coming months.
"Improvement in CASA ratio and lack of credit demand would likely lead to decline in term deposit rates resulting in decline in banks' cost of funds," ESPL said.
Flip side
The impact on capital-intensive sectors such as real estate, jewellery and automobiles is bound to result in a slowdown, which, in turn, will lead to lower demand for credit, a negative for banks.
"Cash crunch and de-monetization is likely to adversely impact GDP growth 2HFY17 as businesses across segments like real estate & linked sectors, Construction & linked sectors, Gems & Jewellery, consumer durables, auto are likely to see subdued demand. This in turn would lead to lower credit growth over at least next 6-9 months," the brokerage said.
Shares of Axis Bank, HDFC Bank and ICICI Bank were trading at Rs 480 (up 1.68 percent), Rs 1,235 (down 0.72 percent) and Rs 267 (up 0.54 percent), respectively on the BSE at around 1.05 pm on Thursday.