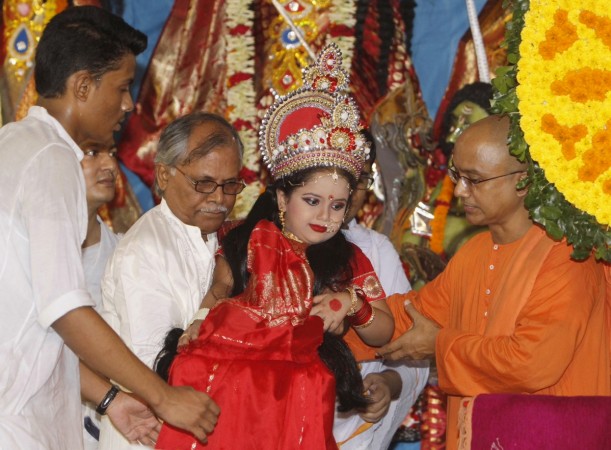 The head priest and others at the Ramakrishna Mission in Bangladesh have received death threats by Islamist militant who claimed to be supporters of the Islamic State group, also known as ISIS. A case was registered at Wari police station in Dhaka city in this regard, and security at the mission was also increased.
The threatening message came in a letter having ISIS letterhead that read "Islamic State of Bangladesh, Chandna intersection, Eidgah Market, Gazipur Municipality," according to Bangladesh News 24.
The letter, signed by one AB Siddique, asked the priest and others at the mutt to not preach their religion in "Islamic Bangladesh," Press Trust of India reported.
"Bangladesh is an Islamic state. You can't preach your religion here. If you continue preaching, you'll be hacked to death with machetes between the 20th and 30th, [sic]" Wari police station's duty officer told PTI, adding that the month was not mentioned in the letter.
"The security of the mission has been intensified as the priest filed a general diary with us," the officer said.
The threat follows attacks on several activists and religious minorities, including Hindus, in Bangladesh. In the latest of several attacks that have taken place over the past many months. a 70-year-old Hindu priest was beheaded by unidentified persons in the Jhenaidah district in southwestern Bangladesh on June 7.
The murder of the priest in Jhenaidah prompted the Bangladesh government to order a nationwide crackdown on militants and extremist groups. The banned Jamaat-ul-Mujahideen Bangladesh and ISIS are believed to be behind most of the attacks.
Fear of migration
The frequent attacks on religious minorities have prompted the Hindu community in Bangladesh to consider migrating to safer places as they fear ISIS will take over the country soon, according to the Times of India.
"I don't know whether it is ISIS or some other group decapitating Hindus but it is quite clear that this persecution is not the same as earlier. It is a new phenomenon," Bangladesh Hindu, Buddhist, Christian Unity Council, Dhaka, head Kajal Debnath told TOI.
"Earlier, they would rape Hindu girls or torch our temples and houses, forcing Hindus to abandon their properties and migrate to India. It was mostly about grabbing Hindu land and property. But now they are slaughtering ordinary landless poor Hindus with no social or economic standing and the message is entirely different," he said.
Debnath further said he does not expect the Indian government to take in Hindus migrating from Bangladesh, but wants Bangladesh Prime Minister Sheikh Hasina to act against the attacks on religious minorities.
"I don't support the Indian government's decision to accommodate Hindu refugees because it will open floodgates for our migration. But if these attacks continue at the present rate without any government intervention, Hindus will be reduced to mere 3 percent in another few years in Bangladesh," Debnath said.