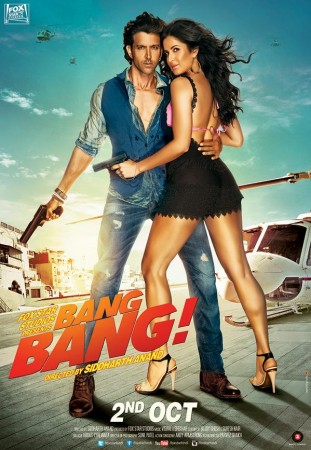 Hrithik Roshan's upcoming film "Bang Bang" looks like a complete entertainer filled with action scenes, romance and drama. The film has made right noises at the box office before its release and looks like the lead actor is quite confident about the film.
Siddharth Anand's directorial film "Bang Bang" is an official remake of Hollywood film "Knight and Day", due to which Roshan's film is often compared to the latter.
But Roshan feels that "Bang Bang" is different and apparently better than the original movie.
During the launch of "Bang Bang" game on Monday, Roshan was asked about how much pressure he has since it's a remake of blockbuster film starring Tom Cruise.
To which, the actor replied, "This is better, always better. Why would I do something if I know it can't be done any better? Also, it's not the same film."
"If you did not know it was an adaptation, while seeing 'Bang Bang' it would not even occur to you that the germ was from 'Knight and Day'. So it's an entirely different film," he said, according to IANS.
While Roshan said that it would not even occur that the film is a remake of "Knight and Day", twitteratti doesn't believe so.
The trailer of the film, released in July, turned out to be an instant hit among the audience, but the director copied certain scenes from the original film. Several people took to twitter to say that the trailer reminds them of "Knight and Day".
A user even commented saying that the romantic number "Meherbaan" is also a copy of the background score of "Knight and Day".
#BangBang is the Ditto copy of #KnightAndDay by Tom Cruise !! even Background score is also copied to make #Meherbaan song !! #Cry

— PapaRazzi ツ (@photocircuit) September 20, 2014
"Bang Bang" is an action thriller featuring Roshan and Katrina Kaif in the lead role. The film is set to release on 2 October at the box office.