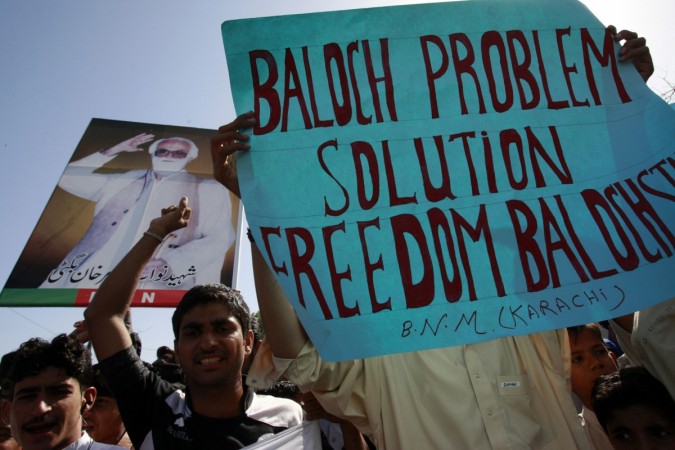 The people of Balochistan will take their war for freedom to the heart of Pakistan if India and other nations fail to stop the "ongoing genocide" in the region, activist Naela Quadri Baloch, who is in self-imposed exile in Canada, told the Times of India.
Quadri, who is currently in India, wants Prime Minister Narendra Modi to help the Baloch people liberate Balochistan province from Pakistan like former prime minister Indira Gandhi helped create Bangladesh in 1971.
"Till now Baloch people have not attacked Pakistan. We only defend ourselves against Pakistani attacks. But how long shall we wait? I can foresee the battlefield will shift to Pakistan," the TOI quoted the 50-year-old activist and a professor of humanities as saying.
"If Indira ji, with all her limitations, could do it, why can't Modi who has got an exceptional mandate, a flourishing economy and enormous international support? He is a bold and strong leader. If he takes a decisive step, he will get support from the whole world. India has earned that respect from the world while Pakistan has earned only hatred. That is the strength of India's secular democracy. But so far Modi has only talked and done nothing," Quadri said.
She further called Pakistan "a nursery and hatchery of terrorism" and "a cancer" that needs to be operated upon. She added that it is India's responsibility to free the Baloch people from the alleged atrocities of the Pakistani government as it was India who "threw" the partition on them.
However, India has long been refusing to intervene in the ongoing conflict in the region.
It is a "call of conscience" for the Indian citizens and government to take a step forward and help end the "war imposed on us by Pakistan" and "human rights violations" and "genocide" the Baloch nationalists have been facing for the past 15 years, Quadri told the TOI in an interview.
"There are a hundred mass graves in Balochistan. It is a war situation; they are combing our villages. They fire indiscriminately, they kill anything–one-year-old babies, girls, women, anything living, even our cattle. They abduct women, they take women with them, they have rape cells. There are official torture cells," she said.
Quadri termed the conflict in Balochistan a "freedom struggle" and refused to call it similar to the separatist movement in Kashmir. "Balochistan and Kashmir are not the same. India's weak diplomacy has made it look like the same," she said.
"Kashmir was never a country; it was a princely state under a Maharaja. Kashmir was always a part of greater India. Pakistan is interested in Kashmir only for its water and not Islam. Pakistan sold parts of Kashmir to China. If Pakistan were sympathetic towards Muslims, Pakistan wouldn't have killed three million Bengalis," the activist added.
The Baloch people have long been seeking autonomy of the province. They have reportedly taken up arms in order to achieve independence from the alleged brutal violence.