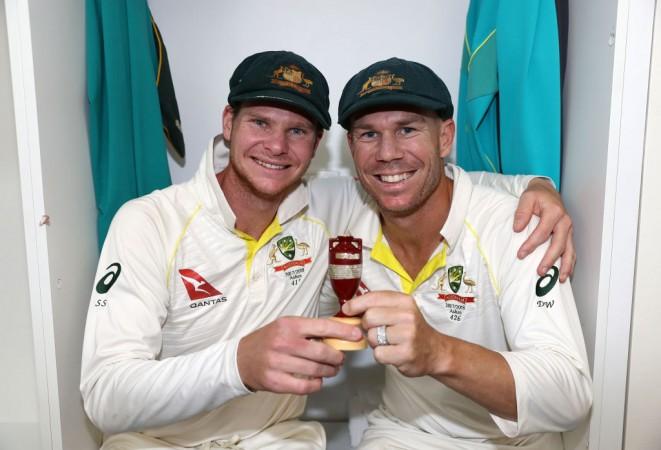 The three cricketers in the ball-tampering scandal that marred Australia's third Test against South Africa have been handed extended bans by Cricket Australia.
Captain Steve Smith and vice-captain David Warner have been banned from playing for Australia for 12 months, while Cameron Bancroft, who carried out the act of ball tampering with sandpaper in the Cape Town Test, has been slapped with a nine-month ban.
The trio was charged under Article 2.3.5 of Cricket Australia's code of conduct, which punishes behavior that is "contrary to the spirit of the game; unbecoming of a representative or official; harmful to the interests of cricket; or brings the game of cricket into disrepute".
Full text of the charges
Smith was charged with:
knowledge of a potential plan to attempt to artificially alter the condition of the ball
failure to take steps to seek to prevent the development and implementation of that plan
directing that evidence of attempted tampering be concealed on the field of play
seeking to mislead Match Officials and others regarding Bancroft's attempts to artificially alter the condition of the ball
misleading public comments regarding the nature, extent and participants of the plan
Warner was charged with:
development of a plan to attempt to artificially alter the condition of the ball
instruction to a junior player to carry out a plan to take steps to attempt to artificially alter the condition of the ball using sandpaper
provision of advice to a junior player regarding how a ball could be artificially altered including demonstrating how it could be done
failure to take steps to seek to prevent the development and/or implementation of the plan
failure to report his knowledge of the plan at any time prior to or during the match
misleading Match Officials through the concealment of his knowledge of and involvement in the plan
failure to voluntarily report his knowledge of the plan after the match
Bancroft was charged with:
knowledge of the existence of, and being party to, the plan to attempt to artificially alter the condition of the ball using sandpaper
carrying out instructions to attempt to artificially alter the condition of the ball
seeking to conceal evidence of his attempts to artificially alter the condition of the ball
seeking to mislead Match Officials and others regarding his attempts to artificially alter the condition of the ball
misleading public comments regarding the nature, extent, implementation and participants of the plan