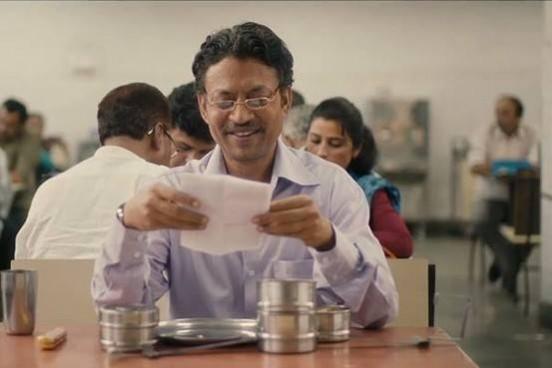 Irrfan Khan's hit movie "The Lunchbox" has been nominated for the British Academy Film Awards (BAFTA) 2015. Director Ritesh Batra describes it as an incredible honour for him and his team.
The official BAFTA website shows that "The Lunchbox" has been nominated in the category of the Film Not in the English Language. The Bollywood movie will compete with Polish-Danish drama film "Ida", Russian drama "Leviathan", Brazilian-British adventure drama thriller film "Trash", and Belgian drama "Two Days, One Night".
The winner will be announced at a grand function to be held on 8 February. The ninth edition of British Academy Film Awards will take place at the Royal Opera House, Covent Garden. Stephen Fry will host the award ceremony, which will be broadcast exclusively on BBC One and BBC One HD that evening.
Ritesh Batra, who has directed the film, is on cloud nine. "It's an incredible honour for me and my team. I am in London right now, and I just heard about it, and we are honoured to be nominated alongside the finest films of the year. It's a great way to start the New Year," the director told IANS.
"The Lunchbox" is an epistolary romantic film starring Irrfan Khan, Nimrat Kaur and Nawazuddin Siddiqui in lead roles. Set in Mumbai, the story is about a young middle class housewife trying to win back her husband's affections. How the misplaced delivery of lunchboxes connects her to a widower, through notes in the lunchbox.
The movie has been screened at several international film festivals, including those in Cannes, Zurich, London and Toronto and won lot accolades from the film critics everywhere. It has got over 50 nominations from National and international awards of which it has won 20 awards.
Made on a shoe-string budget of ₹10 crore, "The Lunchbox" has collected over ₹67 crore at the worldwide box office. The movie has much better business in the international markets than in India. The movie has been still faring well at the UK box office even after 38 weeks after its release in the country.
"The Lunchbox" has collected $3,496,392 (₹21.49 crores) in the USA, €1,286,912 (₹10.50 crores) Germany, £491,163 (₹4.86 crores) in the UK, NZ$ 431,109 (₹2.09 crores) in New Zealand, A$1,552,863 (₹7.97 crores) in Australia and US$554,001 (₹3.39 crores) in Canada so far.