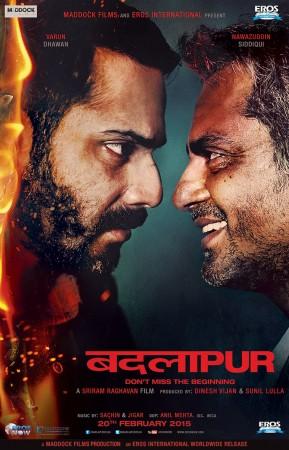 Director Sriram Raghavan's much-awaited movie "Badlapur" starring Varun Dhawan, Nawazuddin Siddiqui and Yami Gautam in the leads has garnered mixed reviews from the viewers.
Written by Sriram Raghavan and Arijit Biswas, "Badlapur" is a neo-noir action crime drama film, which revolves around the revenge story of a boy. Raghav is a man with a past. He witnessed his wife and son being killed during a robbery. He finds out the killer of his family. How he avenges their death will form the crux of the film.
The movie buffs, who have watched "Badlapur", say that the first half of the film is engaging and enjoyable, but the second half is disappointing. The lead actors' performances are the main highlights of the movie. It has brilliant production values and music, picturisation and action choreography are the main big attractions in the technical front.
We bring you the Twitter comments of the audience, who have already watched the movie. Here is the live update of "Badlapur" movie review by viewers.
Manish @manishtamancha
Finally watched BADLAPUR n im still awestruck..i dnt hve words to describe d magnificance of dis mind blowing roller coaster of a film. I seriously want to thank @karanjohar for gvng us three brilliant gems to bollywood, SID,VARUN n ALIA, @Varun_dvn bng d most precious of all. Its not easy to do wat @Varun_dvn has done in only his 4th film n dat to wen ur opponent is as fiercively brilliant as NAWAZ..Hats of to him. From d 1st frame till d last #Badlapur hardly gvs u d tym to blink..d most engrossing phycological drama dat unfolded in a long tym. Watch #Badlapur 4 its brilliant execution,SRIRAM is back in his form,though its nt as visceral as EK HASINA THI yet powerful enough. #Badlapur Nawaz proves agn y he is 1 of best thngs happened to cinema..without his LIAK it was impossible to gt VARUNs brilliance come alive
Sushanth Reddy @sushanthreddy
Interval. Good first. Interesting and entertaining. Nawazuddin Siddiqui... What an actor !!... #Badlapur was bloody Great. Sriram Raghavan back to his core... And what performances from Varun and Nawazuddin. A Cult !!... And absolutely loved the ending !!... Nawazuddin and Varun will make you time and ticket worth.. Rest all is bonus. #Badlapur - A Cult Classic. More than Revenge... #Badlapur is about how an incident will change lives of the ppl involved. Intense and not a single boring moment.
Rohan Mistry @Rohanmistry3
Jst Saw #Badlapur So real...Badass http://movie.Top notch performances by all d starcast.@Varun_dvn is here to stay.go watch it.
Neelesh Kumar @ErNeeleshKumar
#Badlapur W0W! 2nd half not be missed! I salute both the 'Raghus'! One who has this as his name in the film and other who has made the film!
Kárim Al Balushi @KarimB92
Interval at #Badlapur and it's been very entertaining so far. Flawless acting by both Varun and Nawazuddin. 2nd half was good too. Slight surprises but disappointed with the climax. Too weak imo. #badlapur
Suchi @seeksuchi
Finally a movie other than Batman that has a character called Robin in it. #badlapur @seekrobin. #Badlapur blew my mind. Edgy, unconventional, intense and entertaining, with a super talented cast. Do watch, without looking up the story.
Anisha @anisha3011
Jee Karda from #Badlapur - my new favourite workout song. #Badlapur - brilliant acting, good theme behind the film, but something was missing. Nawazuddin siddiqui, Wow what an actor!
Akshat Dave @akshatjdave
Just watched #Badlapur you certainly can not miss the beginning. But no harm in missing the dull ending in otherwise an intense thriller. I just felt rather than uncomplicated ending, it would have been great if there was some twist in it @BadlapurFilm #Badlapur @Varun_dvn. The ending of @BadlapurFilm is way more simpler and cliché #Badlapur @Varun_dvn @Nawazuddin_S. Loved the scene when @Varun_dvn asks @radhika_apte to sleep with him @BadlapurFilm. Overall @BadlapurFilm is worth a watch for @Varun_dvn and @Nawazuddin_S at least once. This year @Nawazuddin_S should get at least one award out of so many. He deserves at least that much. Recognise him @BadlapurFilm
MC Nabz @MCNabz_
#BADLAPUR Wow a killer movie!!! Loved it!! Wow @Varun_dvn what acting! Love you and one can definitely kill for @YamiGautam_YG
Kimothi Albani @hishh
#Badlapur first half - Varun trying hard to fit in the movie still doesn't impress much. Nawasudheen having fun as usual. Pretty average.#Badlapur 1st Half - Sriram's story telling is holding the movie , but nothing new in the story. Story , as in trailer. #Badlapur - A weak hero to a strong villain. Average story to good direction. Gutsy climax but couldn't convey well. Strictly avg - 2.5/5 #Badlapur - Limitations of @Varun_dvn is visible. Superb @Nawazuddin_S , having fun. Brilliant at parts , boring much. Ends , flat.
Pooja Jessani @PoojaJessani
#Badlapur.....good 1st half....lame 2nd half.....Great effort by #Varun...#NawazuddinSidiqui nails it though
Gulz Owais @Gulzpir
#Badlapur movie is a dark twisted psychological thriller Pls watch only if u are atleast half twisted , loved it @Varun_dvn @Nawazuddin_S
fl(ETC)h @itsFLETCH
#NawazuddinSiddiqui & @Varun_dvn are the backbones of #Badlapur Better chemistry than with the leading ladies! #Badlapur is a simple revenge saga, delivered straight up. Though I personally still feel #EkHasinaThi was Sriram's best till date.
Shayan Jaffri @shayanjafri
Just Watched #Badlapur. Amazing movie . Brilliant Performances By #varundhawan and #NawazUddin. #AMustWatch #Blockbuster
Aditya Randhawa @RandhawaAdi
Finally a sigh of relief for cinema lovers..A big break from masala movies.. #Badlapur @Varun_dvn @YamiGautam_YG @humasqureshi @Nawazuddin_S
Mustafa Bugediwala @afutsum
#BADLAPUR @karanjohar @Varun_dvn @humasqureshi Post interval a massive disappointment. My view is that wrong message given to audience.
Vinay Bachwani @vinaybachwani
Watched #badlapur in dubai This guy @Varun_dvn raghu is a treat to watch.. nawazudin siddiqui is amazing yet again...
Suheem @suheem
#Badlapur will be remembered as a film that showcased @Varun_dvn 's versatility ... Raw & Gritty !!!!
The Dev Dagar @TheDevDagar
Saw #Badlapur!! Fab film!!One can definitely kill for YamiGautamshe's so lovely n kudos to @Varun_dvn for his performance! Only Nawazuddin Siddiqui can leave a film worth crores to do a film in a lakh.
Darrel Contractor @DARREL1feb
#Badlapur.. Omg omg brilliant performance by @Varun_dvn #nawaz..u both nailed it.. @YamiGautam_YG u look gorgeous :). Must watch
Sunder Mass @vijaysunder1
A good example of how a decently written film can be marred by bad execution #Badlapur, .Overall disaster for @ErosNow @shilparathnam
Prashant Dixit ‏@prshntdixit980
@AreeshaKhan60 Just saw #Badlapur!! Fab film!! One can definitely kill for @YamiGautam_YG she's so lovely n kudos to @Varun_dvn