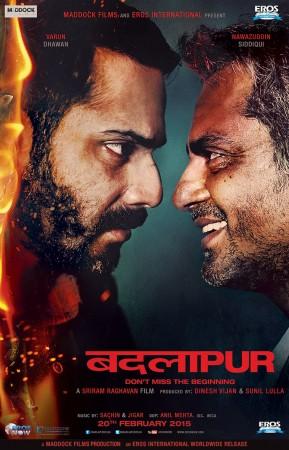 IBTimes India Rating: 4
Varun Dhawan's debut film "Student of The Year" saw him lift the coveted trophy, but with "Badlapur" he does much more.
Raghu's (Varun) happy life with wife Misha (Yami Gautam) and son ends abruptly after they are killed in a bank heist led by Liak (Nawazuddin Siddiqui). Disgruntled and aggrieved, he begins his chase to pin down the murderers. But only, 15 years later.
What follow next is few millilitres of blood, generous helpings of dark comedy and Raghu's incessant attempts to avenge the deaths of his loved ones.
On the outside, it may just be another revenge story but what makes it special is its layered screenplay and grimy cinematography.
Man behind the lens, Anil Mehta, does an incredible job of bringing every scene alive with his exceptional camera work and lighting. Shot mostly indoors, the look and feel of the film is dark and gritty.
While the storyline is sure to keep one latched to the seat, what stands out are the performances.
Varun is a big surprise in his rugged avatar and almost gives Nawaz's wily Liak a tough fight. Emoting with a sincere pair of eyes, the young star has definitely transformed into one of the better actors of the industry. Nawazuddin is at his sleazy best, mouthing lines with utmost honesty and delivering an effortless performance.
The ladies – Huma Qureshi, Yami, Radhika Apte, Divya Dutta – played their parts well, but lost the screen-time battle to lead protagonists.
Sriram Raghavan returns after an abysmal 'Agent Vinod' and how. This would easily have been 'the' film of 2015 if the second half was edited tautly.
Sachin-Jigar's compositions pierce into the heart of the narrative making it more overwhelming.
"Badlapur", apart from being an out-and-out revenge drama, has its own share of twists enough to make you sit up and take notice.
Takeaway: Varun proves to be the brightest 'student'.