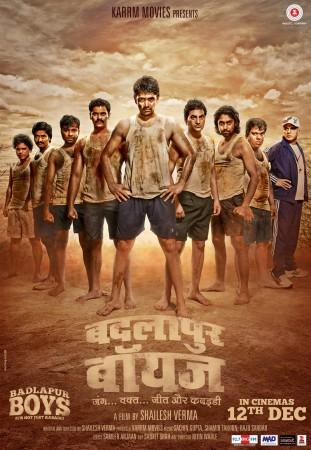 Bollywood has already produced several hit movies such as "Lagaan", "Chak De India!" "Paan Singh Tomar", "Bhaag Milkha Bhaag" and "Mary Kom" based on different sports. The latest release "Badlapur Boys" is yet another sports-driven film, which is based on Kabbadi.
Unlike other Bollywood movies that focused on international games, "Badlapur Boys" concentrates on the domestic game for the first time in Hindi cinema. Directed by Shailesh Verma, the movie is a poignant story of a bunch of underdogs, who not only play Kabaddi passionately, but also get involved in crucial socio-economic issues.
Actor Annu Kapoor plays the role of a Kabaddi coach in "Badlapur Boys", which features Nishshan, Saranya Mohan, Annu Kapoor, Shashank Udapurkar, Puja Gupta, Anupam Maanav, Kishori Shahane, Mazhar Khan, Ankit Sharma, Vineet and Aman Verma in lead roles.
"Badlapur Boys" has been produced by Karrm Movies. Sachin Gupta, Shamir Tandon and Raju Sardar have composed music for the film, while Sameer Anjaan has penned the lyrics. The film, which hit theatres on 12 December, has gotten good reviews from film goers and some took to their Twitter pages to talk about the film. Even Bollywood Superstar Salman Khan has lauded the attempt in the film.
Here is the live update of Badlapur Boys movie review by viewers:
Salman Khan
Wah yaar! Kamaal karte ho mr varun ! Badlapur ? Already tryin diff stuff :) ? Film lookin good. Baap ka record tord do jaldi . Happy fr u .
Rahul Raut
#BadlapurBoys is another "DO MISS" movie. Watch this crack only if you love Kabaddi. There is nothing more than the game. 1.5/5.
SKJ Bollywood News
#BadlapurBoys: Sincere Simple & Honest Depiction Of A Kabbaddi Team's Journey Critic's Rating: 3.5
NyooTV
#BadlapurBoys brings the domestic game, #kabaddi in limelight for the first time in Bollywood.
Swati J
@annukapoor_ - loved your performance, as usual you were great in this movie also #badlapurboys #womenplanet
Nithin Kuamar
Review: '#BadlapurBoys' - Sincere Depiction Of A kabaddi Team's Journey (3.5/5 Stars) - A Good Watch
Vishal
#BadlapurBoys,@Satish Pilangwad,#AnnuKapoor,@annukapoor Badlapur Boys Movie review simple and humble Rating ***