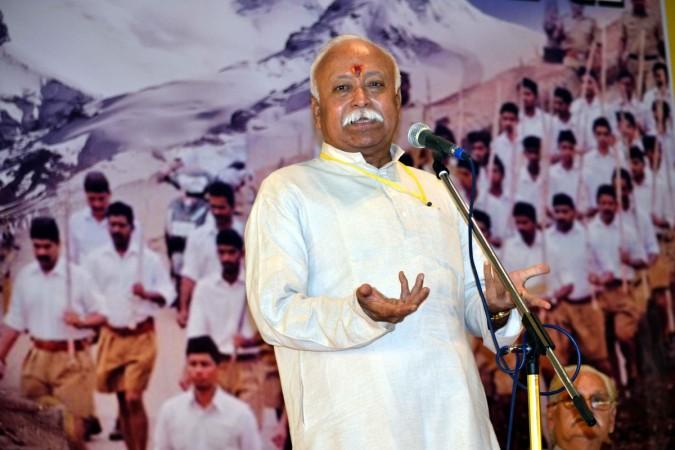 A movie on the RSS (Rashtriya Swayamsevak Sangh) is reportedly in the works. The scripting has come to an end and the movie is about to launch soon.
Lahari Velu Thulasi Naidu, the owner of Lahari audio label and a member of the BJP, will bankroll the product, reports The Print. "I was traveling from Chennai to Bengaluru after the release of Bahubali 2 when this thought struck me and soon I called my manager to block two titles for the movie," the website quotes him as saying.
The registered titles are - RSS Bhagwa Dhwaj and RSS.
Velu has claimed that the script has been approved by Mohan Bhagwat, the chief of the RSS. He along with S Gurumurthy, the RSS ideologue from Tamil Nadu, had met Bhagawat, who gave several books to ensure that the film is factually accurate.
The movie is said to be made with a budget of Rs 180 crore and plans are in place to release the movie before the next Lok Sabha elections.
The movie will highlight the rise of the Rashtriya Swayamsevak Sangh (RSS) in the Indian politics and its contributions to the society. It is reportedly aimed at throwing light at the sacrifices of the Hindu leaders for the Indian Independence.
The untitled film will project how the pro-Hindutva outfit has been taking part in the nation-building exercise. The movie is being made under the patronage of the BJP, the ideological mentor of the saffron party.
Prime Minister Narendra Modi was a 'pracharak' before turning full-time 'neta' decades ago.
The movie is expected to see some leading names from the Indian film industry. A source from The Hindu claimed that Akshay Kumar is likely to be part of the movie.
The makers have also approached Subhash Chandra of Zee group, who is also a Rajya Sabha MP, and Raj Singh of Motion Pictures to distribute the movie.