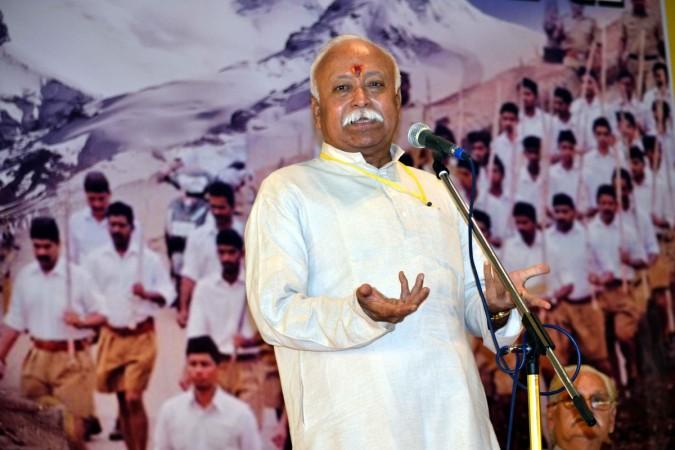 Rashtriya Swayamsevak Sangh (RSS) chief Mohan Bhagwat is not new to controversy. However, this time he may have gone a bit too far by taking a dig at the Indian Army, who guards the nation in weather conditions sure to send a chill down your spine, sometimes literally!
On Sunday, February 11, Bhagwat said that his organisation has the capability to create an "army" in three days, and they would be able to deal with any issue if the need arises. He made the statement while addressing RSS workers at the Zila school ground in Muzaffarpur, Bihar, and even added that the Indian Army would take months to prepare for a situation like that.
"Sangh will prepare military personnel within three days which the army would do in 6-7 months. This is our capability. Swayamsewak will be ready to take on the front if the country faces such a situation and Constitution permits to do so," the Press Trust of India quoted Bhagwat as saying.
He went on to explain that the Sangh may not be a military or a para-military organisation, but it is a "parivarik sangathan" (family organisation), whose members are ready for any sacrifice. He also told the members to set a good example in their personal, family and social life.
After he made the statement, several Twitter users lashed out at Bhagwat for taking a dig at the Indian Army and said that if he really believes that RSS is capable of mobilising an army in three days, he should prove it.
Let's send this Bhagavat guy to LOC, better him than Indian Army martyrs.
This guy's statement is blatantly Insulting the bravery, sacrifice and the rigorous training of Indian Army.#MohanBhagwat insults Indian Army.https://t.co/6bKDKbJJaf

— Nandakishore-డు, N (@AcerbicallyUrs) February 12, 2018
Just a freaky idea: since the RSS can do the job of the army why don't we send them to the borders and to Siachen and get our soldiers back home? Would fulfil so many objectives in one go! #ApologiseRSS #MohanBhagwat

— Madhumita (@madhuchak) February 12, 2018
#MohanBhagwat insults Army again, says it takes months to prepare for war while RSS can do it in 3 days. Army must drop him with his Chaddhi team to #Siachen to check if he is telling truth or lying!

— Samar (@Samar_Anarya) February 12, 2018
Bhagwat's statement comes at a time when the Indian Army has been fighting terror in Srinagar and Jammu. An encounter is under way in Srinagar's Karan Nagar area and a CRPF personnel has lost his life.
On Saturday, February 10, five armymen were killed and a civilian lost his life when suspected JeM terrorists attacked a camp of the 36 brigade of the Jammu and Kashmir Light Infantry before dawn. in Sunjwan. The operation went on for over 24 hours and the army was flushing out terrorists even on Sunday.
Meanwhile, Minister of State Civil Aviation Jayant Sinha has defended Bhagwat's comments and said that he aims to make India great and protect the nation, reported Times Now.