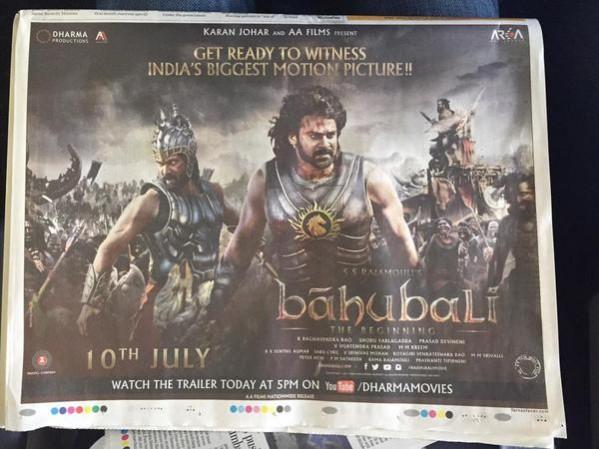 The story of SS Rajamouli's "Baahubali" has allegedly been leaked on the Internet and if it is authentic, the Prabhas- Rana-Anushka-Tamannaah starrer is another routine, revenge drama.
Viewers have been eagerly waiting to know the story of "Baahubali" ever since SS Rajamouli announced the project. But the makers had kept it under wraps. Not only that, the film unit had kept the first look of all the characters secret until 1 May. The director had strictly warned his team members against sharing details related to the film.
The film unit recently revealed the first look and trailer of "Baahubali", which garnered huge response from the audience. Now, a Telugu movie portal has leaked the story and claims to have got it from a crew member, who has said that "it is a small story which is shown in the trailer itself." The leaked storyline appears to be real one.
"Baahubali", which is being made on a budget of ₹175 crore, will be released in two parts. The first part is titled "Baahubali The Beginning", while the makers are yet to reveal the title of the second part. The leaked story seems to cover both parts.
Here goes the story of the film, according to the leaked report.
Baahubali (Prabhas) is an able king and a powerful warrior. But his greedy step-brother Bhallala Deva (Rana Daggubati) kills him to usurp power. Devasena (Anushka Shetty) is in prison. Baahubali's son Shivudu (Prabhas) is brought up in a village.
As Shivudu grows up, he learns the facts of his father's death, revealed through a flashback sequence. How he avenges his father's death and ensures good governance for the people of the kingdom forms the crux of the story.
The leaked story indicates "Baahubali" is just another regular, revenge drama. But what is going to be the special about the movie is Rajamouli's screenplay. His blend of technology with his amazing story telling will form the highlight of this visual extravaganza.