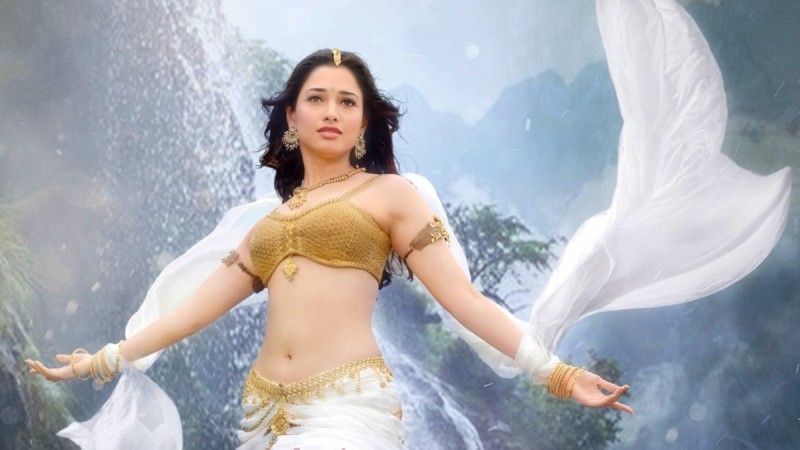 Baahubali actress Tamannaah Bhatia (Tamanna) has opened up about her struggles as an actress which surprised many. Her revelations have put light on the industry's not so glamorous side especially at a time when many are still mourning and talking about Sridevi's accidental death.
Tamannaah Bhatia is one of the busiest actresses with six big-ticket films in her kitty at the moment namely, Naa Nuvve (Telugu), Queen Once Again (Telugu) ABC (Marathi), Khamoshi (Hindi), Kanne Kalai Maane (Tamil) and Kunal Kohli Untitled (Telugu). She is struggling to get a breather from her busy shooting schedule.
In an interview to Tamil daily, the Deci actress spoke on people's perceptions about an actress and her real-life struggles. The 'Ms. Milky Beauty' as she is called in Andhra, had said in her interview that the life of an actress is not always happy.
"I've been in cinema for 15 years and working hard without break. I am unable to eat what I want to and always work hard to maintain my body and looks. Sometimes strenuous workouts and hectic schedules keep me on my toes. I envy other women who have a free lifestyle," Tamannaah said.
She further added that an actress has to wear a smile all the time and hide her personal problems. "People think actresses have fame and money, but they are not aware of the difficulties we undergo. I'm not saying that there is no room for happiness in the film industry, but people should understand that we are sacrificing so much for our survival," she added.
After the death of Sridevi, a lot has been spoken and written about the late actress's persistent desire to look young and beautiful, her personal, financial and family problems. Now Tamannaah shedding light on the struggles in keeping up with the image of an actress is fuelling the debate.
On hearing the news of Sridevi's demise, Tamannaah had tweeted, "There's nothing more heartbreaking than losing someone you look up to tremendously. Sridevi was the magic that made us believe in the beauty of cinema. Still can't believe she's no more. Darkest day for cinema. RIP #Sridevi."
There's nothing more heartbreaking than losing someone you look up to tremendously. Sridevi was the magic that made us believe in the beauty of cinema. Still can't believe she's no more. Darkest day for cinema. RIP #Sridevi pic.twitter.com/xuFwS9iq1B

— Tamannaah Bhatia (@tamannaahspeaks) February 25, 2018