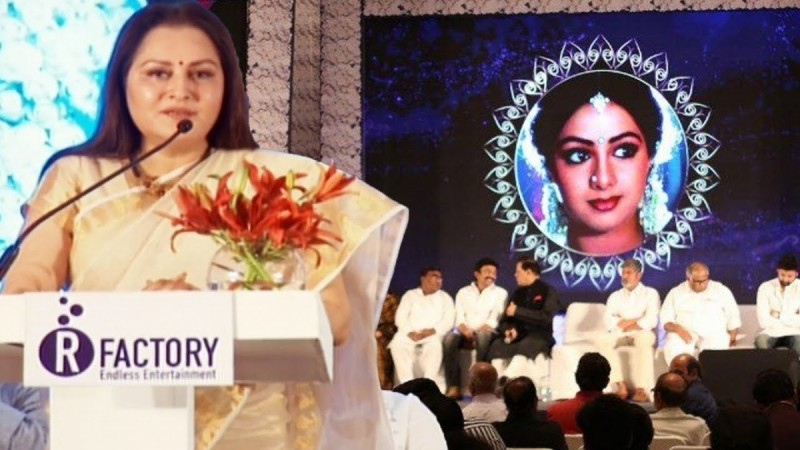 At the condolence meet held for late actress Sridevi in Hyderabad by the Telegu film industry, many A-listers were present, who shared their memories with the late actress. One such actor was Jaya Prada, who was said to be Sridevi's biggest competitors in the 80s'. However, Jaya Prada got emotional while talking about the late actress, and said that she still can't come to terms with the news of her demise.
She said, "I used to gladly attend the functions organized by T Subbarami Reddy, as there was always a kind of excitement. But today, I feel an unknown fear, as we have gathered here to mourn the loss of Sridevi."
Talking about her films which also starred Sridevi, she said, "I acted with Sridevi in 15 movies in Telugu and Hindi. In every movie, we had a healthy competition between us and were always pitted against each other when it came to our beauty, acting and dialogue delivery. Today, I find it hard to accept the fact that she is not with us."
Jaya Prada said that the demise of Sridevi has created an irreplaceable void in the industry. She said, "The sudden demise of Sridevi shook the entire nation. Although I have acted with many other actresses, her death has created an unforgettable sadness for me."
The yesteryear actress expressed her condolences to Boney Kapoor and his family. She added that Sridevi's demise has come as a great loss to Boney and her daughters, "Sridevi was not only known for her great acting skills, but also as a doting mom. She wanted to see her daughter's Janhvi's film career a success, and I'm sure Janhvi has those skills."
Jaya Prada conveyed Boney's message to the audience, "He spoke to me last night and asked me to convey you all that he isn't in a condition to attend the event. He has conveyed his regards and gratitude to all, who have stood by him and his family in this testing time."
Jaya Prada thanked Subbarami Reddy for arranging the condolence meet for Sridevi. She said, "I would like to thank Subbarami Reddy again. There so many big filmmakers but amidst all of them, he has come forward to hold such an event to remind us of Sridevi."
T Subbarami Reddy, who is fondly known as TSR, held the condolence meet for Sridevi at a star hotel in Hyderabad on Sunday. Senior stars like Krishnam Raju, Rajasekhar, Jagapathi Babu, Jayasudha, Jayaprada and Babu Mohan gathered to bid a tearful adieu to their colleague. They hailed her illustrious career and paid homage to her.
Check out Jayaprada's emotional speech at the condolence meeting of Sridevi