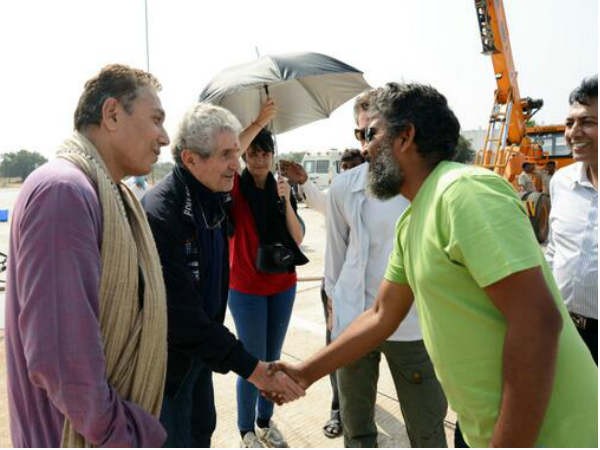 "Baahubali" has witnessed unprecedented success at the box office, apart from creating a world record for any Indian cinema, with the movie being released on about 4,000 screens worldwide.
Read: Baahubali Collects ₹165 crore at Box Office in 1st Weekend
For his commendable directorial skills and innovative promotion, SS Rajamouli, the director of "Baahubali", could well become a role model for aspiring filmmakers in India.
SS Rajamouli began his career as an assistant director to K Raghavendra Rao for a TV serial and became an independent director in 2001 with Junior NTR's "Student No 1", which became a huge commercial success at the box office. The movie was dubbed in Hindi as "Aaj Ka Mujrim" and remade in Tamil as "Student Number 1".
The 41-year-old has not looked back since then, creating a new landmark with each new film.
Before "Baahubali", he had directed nine movies in Telugu, all of them box office blockbusters. Two of his movies, "Magadheera" and "Eega", got him national and global recognition.
When he announced "Baahubali", everyone knew it would set a new record at the box office, but none had imagined the sheer scale of it.
The movie has smashed the life time collection records of highest Tollywood grossers such as "Magadheera" and "Attarintiki Daredi" in just three days.
Earlier, the phenomenal success of "Eega" released in 2012 had made everyone across the country look forward to the next offering from SS Rajamouli. When he announced "Baahubali", speculations about its cast and crew and shooting went viral on social media. Although the director took a lot of time to plan it, his calculation went wrong several times in the last three years during the course of making "Baahubali".
SS Rajamouli had initially planned to make "Baahubali" as one film, but as he went on shooting the movie, the length of the film increased, forcing him to release it in two parts.
He had a tough time convincing the producers about the budget and its cast and crew about the long time it took to complete. Fortunately for him, they had their faith in him.
The director made sure that all these problems were handled deftly, denying people to cast doubt on the movie's production or box office success.
In fact, right from the beginning, Rajamouli has been creating positive ripples in the media and he adapted many unique publicity strategies to launch the movie's videos, posters, teasers and music, in the run-up to the release of the movie.
He exploited social networking sites such as Twitter, Facebook, Whatsapp and YouTube to the maximum extent, which proved to be a cost-effective way of promotion for its makers.
When he was ready with the final product, there was a huge demand for its music, satellite and distribution rights. The marketing of these rights was a Herculean task for the makers as they were a bit sceptic about recovering its production costs and ensuring profit from the sale of their rights. SS Rajamouli was successful in finding new ways for its marketing.
Released on about 4,000 screens worldwide on 10 July, "Baahubali" received an earth-shattering response from film-goers across the globe. Besides garnering positive comments from viewers, the film raked in over ₹150 crore nett at the worldwide box office in the first weekend. The film has smashed almost all records of Indian blockbusters in both domestic and international markets.
With "Baahubali", SS Rajamouli has raised the bar for Indian cinema. It won't be wrong to say his work has made some superstars and leading directors of Indian cinema envy his success.
His filmmaking style, promotion and generating hype and living up to it are lessons worth learning for any aspiring filmmaker, be it Telugu, Hindi, Tamil or Malayalam.
SS Rajamouli has set a new benchmark for Indian cinema with "Baahubali". It won't be a surprise if his filmmaking style and promotional strategies form part of film institutes' curriculum in the days to come.