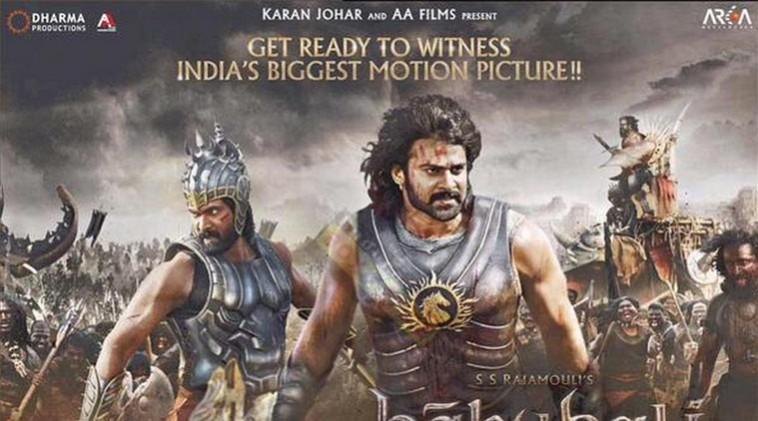 Bollywood filmmaker Ram Gopal Varma (RGV), who is known for his weird way of reviewing movies and current happenings, has said that SS Rajamouli's "Baahubali" is a wakeup call for all the superstars of Indian cinema.
After watching "Baahubali" on Saturday night, RGV took to his Twitter page to share his review of the film with his followers. He opined that a star's film will become a big success if it has some good concept.
"There are films and films and films and films and films and films and films and films and films and films and then there's 'Bahubali'"

"One major effect of Bahubali will be that every coming big film of every big hero will look like a small low budget film"

"Bahubali proves that a concept attached to a star will make the film much more bigger which Hollywood realised decades back"

"For the first time a film looked bigger than its star Prabhas..with Srimanthudu there's just Mahesh and with kick 2 there's just Ravi teja"

"Bahubali shud be a wake up call to all stars to look beyond themselves to become bigger..otherwise they wil b relegated to the bottom rungs"

"Rajmouli infected the entire industry with a severe dose of inferiorititis whose only cure can be to travel in the path laid by him"

"Every big film coming after Bahubali whether it's of Mahesh babu or Ravi teja or Tarak or Pawan Kalyan or etc will look like a 5 D film"
RGV says Baahubali came out like a dinosaur in the forest and Rajamouli has become an envious director. He praised Prabhas, Rana Daggubati and Ramya Krishnan for their wonderful performances in the movie.
"In an industry jungle of lions,tigers, pythons and elephants, the Bahubali Dinosaur arrived and now the survival rules will have to change"

"F*** up of Rajmouli is all directors might die of jealousy nd if he takes 4 yrs to make next film there won't b a film industry anymore RIP"

"Prabhas is terrific and Rana seemed literally like a mountain both physically and performance wise ..Ramyakrishna is simply awesome"
Meanwhile, the filmmaker criticised people in Telugu media and film industry for praising Rajamouli as pride of Tollywood and bitching about "Bajrangi Bhaijaan".
"Telugu ppl (media, industry) are the only ones who bitched about BB when the whole Nation is praising nd so TFI feeling proud is a joke"

"Whether Rajmouli was born in Orissa or Assam or Timbektoo he will still be Rajmouli so telugu people don't need to get sexcited about that"

"It's not pride of telugus that Rajmouli is born here ..it's his misfortune he wasn't born in Bombay or Los Angeles"

"The true demonstration of the effect of BB is going to b on the next big stars release becos BB will make him feel so less rich"