As a kid, she dreamt of doing something challenging. In her teens, she was a step ahead when her peers were busy choosing their stream or subject for further study. She knew what she wanted.
Kashmiri Muslim girl Ayesha Aziz has achieved that dream against all odds. A graduate in aviation from the prestigious Bombay Flying Club at the age of 16, she was awarded her student pilot license in 2011. She thus became the youngest student pilot in India and the first female pilot from Kashmir.
She would later obtain Flight Radio Telephone Operator's License (FRTOL).
At present, Ayesha is a member of the Indian Women Pilots' Association (IWPA), and pilots single-engine Cessna 152 and Cessna 172 aircraft.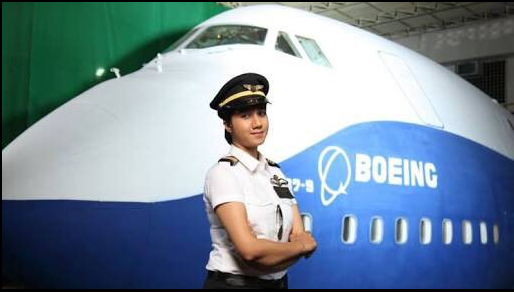 She flew a MIG-29 fighter jet at Russia's Sokul airbase in January 2012, and also a Cessna 172R aircraft. Ayesha was the one of the three Indians chosen for an advanced space training course at NASA where she got to meet former NASA astronaut John McBride.
During the two-month course at NASA Space Academy in 2012, she successfully completed her training in Space Shuttle Mission, micro-gravity, manned maneuvering unit, multi-axis training and Extra-Vehicular Activity. The Mumbai resident received her commercial pilot license in 2017.
Ayesha, who idolizes Indian-American astronaut Sunitha Williams, has said she had a chance to interact with her where the astronaut shared her experiences and activities in NASA, including scuba diving, moon-walk and bunny walk. She even had the privilege to meet Rabia Futehally, the first Indian woman to pilot an aircraft as a private pilot's license (PPL) holder in 1960.
She received the greatest encouragement to achieve her dreams from her parents. Her mother hails from the Baramulla district in Jammu and Kashmir, while her father is from Mumbai.
Areeb Lokhandwala and Nadiya Mattoo are her siblings.
When Ayesha enjoys the take-off and landing of airplanes, her brother Areeb Lokhandwala is scared of them and would sleep through them, she recalls. And for Areeb, Ayesha is a proud sister and greatest motivator.
Ayesha has done several photoshoots for a magazine and an ad commercial for Whisper. Ayesha motivates every Kashmiri girls to chase their dreams, despite adverse conditions.
Also read: