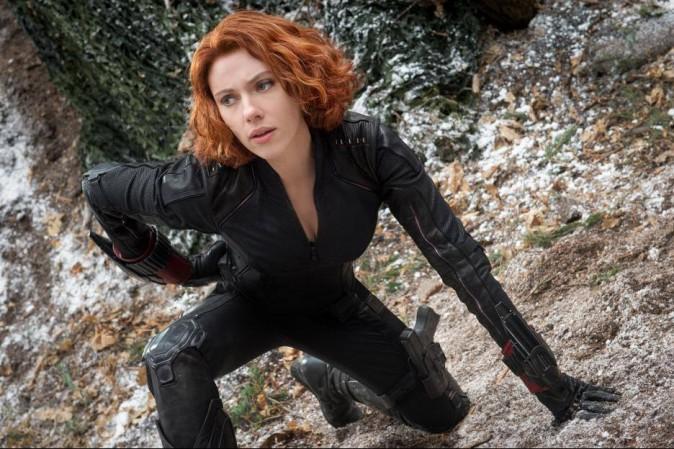 Wow! What a busy year Marvel is having.
The studio is juggling between shoot schedules of Black Panther, which is currently filming in Atlanta and South Korea, and Avengers: Infinity War, shooting across the globe.
Also Read: Avengers Infinity War: Did Chris Evans just confirm that he will no longer play Captain America?
The video shared by Marvel during the first week of shoot showed Iron Man actor Robert Downey Jr and Spider Man: Homecoming actor Tom Holland working their way to finish their schedules in Atlanta. Due to tight security, no pictures from the sets or trailers were leaked. But now, it appears that Vision and Black Widow have also joined the sets.
In pictures that have hit the social media platform, one can see Vision suited up in his iconic red attire. As the filming of Avengers: Infinity War shifted base to Edinburg, a Reddit user clicked a picture of Vision reporting for duty. Since the quality of the picture is not good, it is difficult to tell if it is the Vision actor Paul Bettany or a body double.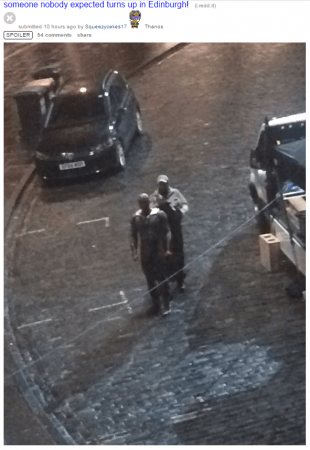 More details about the shooting were revealed by another Reddit user. User name dysphoriadoll revealed:
The back half of Edinburgh Waverly station has been turned into a big green screen set, with coffee shop, payphones, and random bikes and wind machines. The little cafe on Cockburn Street next to the Baked Tattie shop has been turned into a fully fledged kebab shop, we weren't allowed to get pictures. There's also a rig across the road at a restaurant: this is where they're exploding things in the coming weeks. There's a huge crane at the bottom of Cockburn St with some IMax cameras (which are massive by the way). There are large lorries belonging to Pinewood Studios up the opposite way.

We didn't spot anyone tonight but one of the crewmembers let slip that ScarJo and RDJ are filming on Wednesday night across the city. This gives me a theory that Black Widow is hiding out in Edinburgh after fleeing the US once the dust has settled from the whole Accords incident, and Tony goes to find her. I'm thinking he meets her in the kebab shop and then s**t goes down. Seeing as they're spending so long in Scotland, do you think one of the stones will be hidden here? Edinburgh is an ancient city with lots of links to witchcraft and cults, I'm wondering if it's all related?
Speaking of Scarlett Johansson, a video of her body double during a stunt sequence also hit the internet earlier this week. In the video shared online, Black Widow is seen flying into a wall of sorts, resulting in the first known casualty of Avengers: Infinity War.
The Avengers: Infinity War releases in May 2018. The build up to the war will be via Guardians of the Galaxy Vol. 2 releasing on May 5, Spider-Man: Homecoming on July 7, Thor: Ragnarok on Nov 3, Black Panther on February 16, 2018 and then Avengers: Infinity War on May 4, 2018.