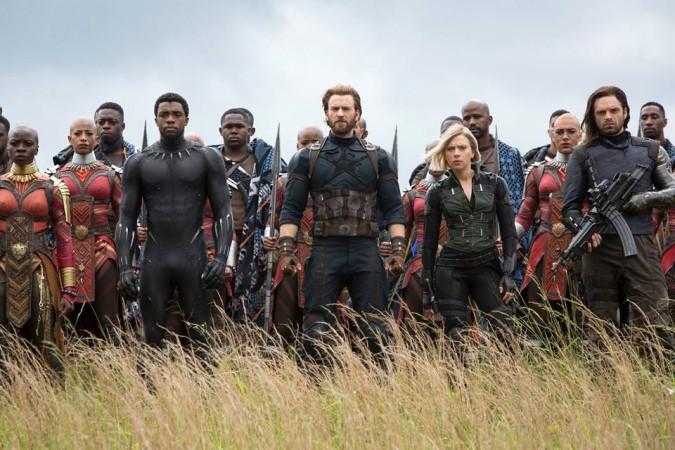 Avengers: Infinity War releases April 27
The Marvel movie has received good reviews from critics in India and the US
Avengers: Infinity War releases this weekend. While fan reactions are awaited, the critics have given a thumbs up to the Marvel movie. Avengers: Infinity War reviews began pouring in starting this week from the US and now, Indian critics too have shared their verdict about the movie.
Trade analyst Taran Adarsh took to Twitter to drop a one word review and said that Avengers: Infinity War is a blockbuster. Mihir Fadnavis, who has reviewed the movie for First Post, gave Avengers: Infinity War an impressive 4 out of 5 popcorns (stars) and said that the film is worth all the hype.
"It's actually worth all the hype and that Marvel managed to fulfill all of your expectations. This is a proper 'event movie', a cinema milestone, a new high bar set for theatrical entertainment. It's everything you wanted and everything you least expected in an Avengers movie. It's also surprisingly dark and disturbing, so get ready to order some drinks after you watch it," the review reads.
Rataj Tripathi deemed Avengers: Infinity War as the best Marvel movie in MCU. "Avengers: Infinity War is passionate, silly, and heartbreaking – just like first love!" he writes.
DNA's Rucha Sharma writes, "Opulence is the buzzword and the movie presents a polished product. It meets expectations and that's about it. The last half an hour of the movie is spectacular in every way." She gave the movie three and half stars.
Film critic for Bombay Times, Renuka Vyanahare tweeted, "End credits of Avengers Infinity War were as massive as the film. Showed what a mammoth task it must have been to put this movie together. Watching the endless list of names scroll upwards on screen long after the film ended was gratifying & intimidating."
Internationally, Avengers: Infinity War has received a bag of mixed reviews. Rotten Tomatoes has certified the movie fresh with a score of 86 per cent. Several reviews deem it an epic, thrilling Marvel movie while a few felt it was too long of a movie.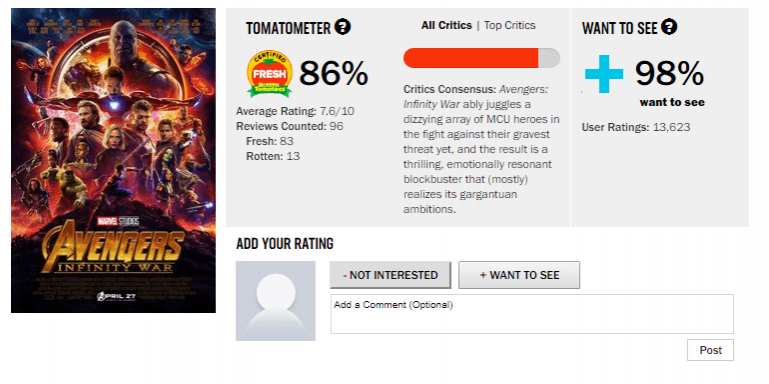 Mark Hughes of Forbes said, "The scale and grandeur of Infinity War surpasses anything else to date in the genre. It makes a loud, bold declaration of what is truly possible in superhero cinema, challenging filmmakers to reach higher and challenging audiences to keep demanding more."
"It's really the simple pleasure of seeing so many good actors together that makes 'Infinity War' — an 'Ocean's Eleven' in hyper drive — work. The screenplay, by Christopher Markus and Stephen McFeely, spreads the heroes around in improvised groups that create some funny dynamics," wrote Jake Coyle, Associated Press.
"The noisy, bloated spectacles of combat were surely the most expensive parts of the movie, but the money seems less like an imaginative tool than a substitute for genuine imagination," AO Scott from New York Times reviewed.
Avengers: Infinity War releases on April 27.