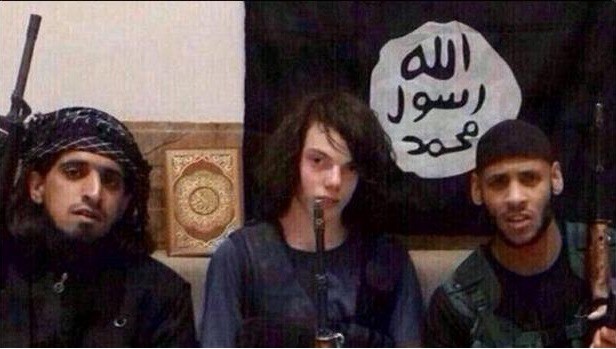 Australian teen Jake Bilardi, who was recently identified as the young 'White Jihadi' in the Islamic State ranks, has reportedly been killed in a suicide attack in Iraq's Ramadi city on Wednesday, the same day another Australian extremist was reported killed in Syria.
ISIS-affiliated accounts on Twitter suggested that the 18-year-old was among the eight 'martyrs' who struck in Iraq's Anbar province, and also shared photos of him driving a white van, imposed with a caption saying 'May God accept him'.
The 18-year-old was last seen in a photo holding a rifle and flanked by two jihadists as they sat before an ISIS flag, and was earlier mistaken to be a 'Jonathan Edwards' from Britain when the photo first surfaced in December.
However, his friends and classmates from Melbourne's Craigieburn Secondary College where he studied, identified him as 'Jake', who is believed to have converted to Islam when he was in Class 10.
While Australia did not confirm Jake's death, Prime Minister Tony Abbott called it an "absolutely horrific situation."
"It shows the lure of this death cult to impressionable youngsters," he was quoted as saying.
Jake had reportedly contacted his family last October to tell them that he was training in Iraq for a 'martyrdom mission' but later said he wanted to be a soldier as he was 'too scared'.
Jake had flown to Turkey last year after he told his family that he had corresponded with a journalist who had offered him a job in Istanbul.
On Wednesday, another Australian, Abdul Salam Mahmoud, who flew to Syria to help in 'humanitarian work' was reportedly killed in Syria's Latakia province. He was said to be an ISIS supporter, though it is not clear if he fought with the group.