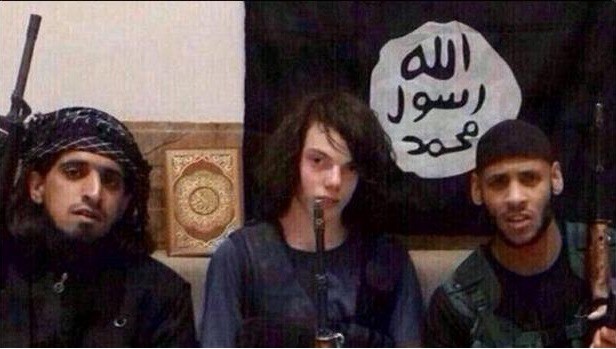 The 'White Jihadi' seen sitting with ISIS militants in photos that appeared last December has been identified as an Australian teen, who is believed to have converted to Islam when he was in Class 10.
Referred to as 'Jake', the 18-year-old was seen in a photo holding a rifle and flanked by two jihadists as they sit before an ISIS flag, and was earlier mistaken to be 'Jonathan Edwards' from Britain.
However, friends and classmates of the teenager from Melbourne's Craigieburn Secondary College where he studied, identified him as 'Jake', remembering him as an outcast who often fell victim to bullying, but who was a whiz in mathematics.
"He was quiet and barely had any friends. Whenever you tried to joke with him he would react aggressively," Ulus Shefket, who studied in the same batch, told Daily Mail Australia.
While Jake was not from a Muslim family, he reportedly converted at the age of 16 after facing depression, and took the name 'Abdur Raheem'.
"He came to school one day late in year 10 and just told us that he converted to Islam, but when we asked him why he would give us very vague answers," Shefket said. "He left Craigieburn Secondary College for another school because I think he felt like an outcast there," he added.
Jake reportedly attended prayers at an Islamic centre near Meadow Heights, and several worshippers have told the media he was a "quiet guy" and that his family was unhappy about his religious choice.
Australia's Fairfax Media reported that Jake had told his family last year that he had corresponded with a BBC journalist who had offered him a job in Istanbul, following which he dropped out of school and flew to Turkey.
The man he corresponded with is now believed to be an ISIS recruiter.
Last October, Jake contacted his family to tell them that he was training in Iraq for a 'martyrdom mission' but later said he wanted to be a soldier as he was 'too scared'.
He is now believed to be in Syria.