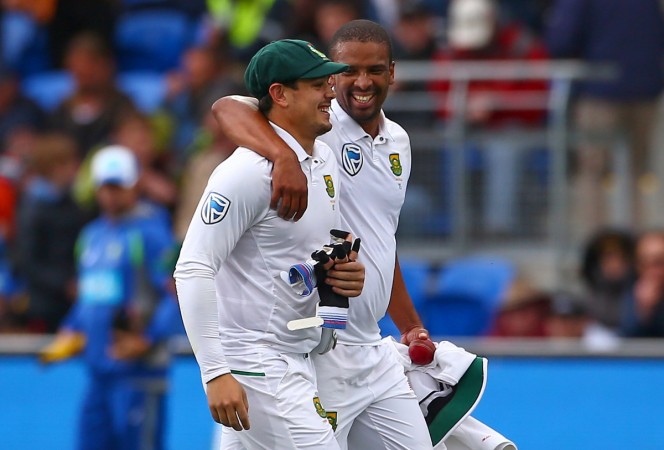 Something is just not clicking with the Australian cricket team at the moment. The five-match ODI series was whitewashed by South Africa and then, Steve Smith and co suffered a big loss in their first test match in Perth.
Everyone kind-of thought that Aussies will be back with a bright start in their second test match being played in Hobart at the moment. But no, it didn't transpire that way.
As unbelievable as it may seem, Australia have got all out for 85 runs in their first innings on the very first day of the Hobart Test. It just took 32.5 overs for South Africa to inflict the worst of damages on the home team at the Bellerive Oval. Reminder: It is the very first Test match the Proteas are playing in at this particular venue.
The likes of David Warner, Usman Khawaja, Joe Burns were made to look like absolute amateurs by the Proteas, who despite losing Dale Steyn, rode on the magic of Vernon Philander (5 for 21) and Kyle Abbott (3 for 41).
Skipper Smith did manage to get 48 runs off 137 balls, while debutante Joe Mennie scored 10 off 30 balls. These were the only two stats catching the eye in the rather embarrassing Australian scorecard.
On stumps, South Africa lead by 86 runs with five wickets remaining in their 1st innings. Temba Bavuma and Quinton de Kock are undismissed at the end of the day, while the good news for Australia remains that Josh Hazlewood (2 for 36) and Mitchell Starc (3 for 49) are covering the team's batting shame with their impressive bowling spells.
Here is what twitter users have been saying on Australia's performance
Australia is improving
47 all out in 2011
60 all out in 2015
85 all out in 2016 ???
See the difference they are getting better#AUSvRSA

— Zaigam Raza (@Zaigamraza) November 12, 2016
WOW!!! RSA annihilate AUS in AUS; 2nd Test #AUSvRSA
1 for 2
2 for 2
3 for 8
4 for 8
5 for 17
6 for 31
7 for 59
8 for 66
9 for 76
85 all out

— RM (@mishra_rajeev) November 12, 2016
#AUSvRSA My fellow Australians. If your Nanna's not busy this arvo, send her down to Hobart to have a bat & talk some sense into the team.

— Sally Sara (@sallyjsara) November 12, 2016
First time in Aus Test history both openers dismissed for 1 in the same innings. #AusvRSA

— Ric Finlay (@RicFinlay) November 11, 2016
In other news, Australia bowled out for 85! Forget turning wickets, now the Aussies can't play on green wickets either! #AUSvSA

— Rajdeep Sardesai (@sardesairajdeep) November 12, 2016