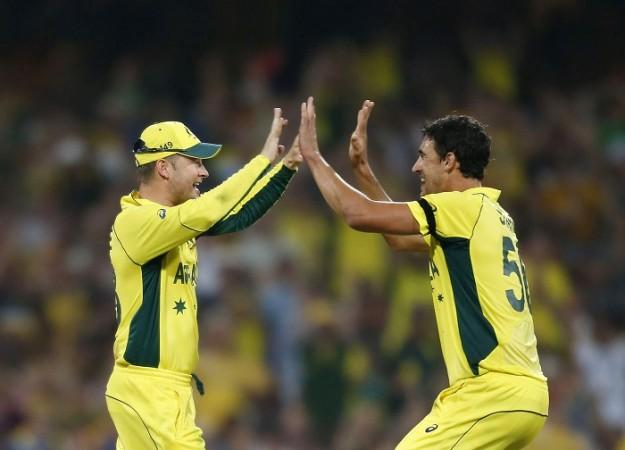 Australia vs Pakistan for a place in a semifinal against champions India in the ICC Cricket World Cup 2015 – what better carrot can there be for the two teams when they clash at the Adelaide Oval in the quarterfinal on Friday.
Having watched two of the favourites – South Africa and India – waltz through to the semis, Australia will be keen to join them. But, they will also know they probably will not have it as easy as the other two sides. Pakistan are a team in a terrific run, having won four matches on the spin, and with a bowling attack capable of running through any side.
"I think fast bowling will play a big part tomorrow, especially if they leave that grass on the wicket like there is now -- fingers crossed," said Michael Clarke who has two of the most feared bowlers in his lineup in Mitchell Johnson and Mitchell Starc. "I think the pitch has certainly got quicker over the years.
"It's a beautiful ground, and I think we're going to see another great wicket tomorrow. But both teams have good fast bowlers in their lineups so the batters, we're going to have to make sure we play really well."
Pakistan would have loved to have Mohammad Irfan fit and available to have a go at what is expected to be a green pitch, but having already lost Junaid Khan, Saeed Ajmal and Mohammad Hafeez, Misbah-ul-Haq will have to make do without another crucial bowler. Irfan has been ruled out of the World Cup with a stress fracture to the hip.
"You can't say now Irfan is out of this competition, we just can't play Australia," said Misbah. "We've got other bowlers who are good enough, equally good enough, and they are also performing really well.
"All the seamers are up to the mark. Yasir Shah is a bowler that can really put pressure on the opposition. So we've still got that sort of team, that sort of talent, that sort of bowling lineup, that could really put Australia under pressure."
On paper, though, Australia have the better bowlers and the much better batsmen, and if everyone does their job as expected, the home team should win. However, a World Cup quarterfinal is the kind of match in which anything can happen, and even if Misbah was trying to temper the expectations by saying his team had already reached where they were expected to reach, he was quietly confident of pulling off an upset.
"The biggest satisfaction is that we gave everything to our team and country," added the Pakistan captain. "Whatever we had, we put our efforts together. This World Cup is still not over, and we'd really like to win the game and go further. That's what, you could say, our desire and dream is.
"Yes, they are favourites but there is no hard and fast rule that favourites are always going to win the game. It's on the day, the team that performs better, the team who has better chances, better luck, can really defeat any team. So we are hopeful and we are very positive."
The Australia batting, as New Zealand showed, can be put under pressure, and Wahab Riaz, who has been exceptional in this World Cup, will be crucial. He needs to step up in the absence of Irfan, and if Pakistan can go through the Australian batting order, there just might be a big contest in the offing.
Pakistan's own batting, though, even if there have been signs of improvement, comes with a several question marks. While Sarfraz Ahmed has given Pakistan a bit of solidity to the top of the order, facing Ireland bowlers and the likes of Starc, Cummins and Johnson are completely different things.
Australia will look to run through the fragile Pakistan batting lineup, and the last thing Misbah will want is him looking to hold the innings together, with the top order gone for next to nothing.
"I think Pakistan have been underrated for a long time especially in the shorter form of the game," Clarke said. "They have got a lot of talent. Their attack is very good and they have got a good mix of youth and experience.
"It will be a tough challenge for us and I believe we have to be at our best to beat them. We'll treat this like a World Cup final. If you lose, you will be sitting and watching the rest of the tournament, so we are focused on just making sure we can have success in this game."
Where to Watch Live
Get the Live Scorecard of the Match HERE
Get the Live Blog and Updates HERE
The match in Adelaide is scheduled to begin at 2 pm local time (9 am IST, 3.30 am GMT, 10.30 pm ET). Live coverage in India will be on Star Sports 1, Star Sports 3 and the HD channels, with live TV coverage with regional commentary on Suvarna Plus, Jalsa Movies and Asianet Movies. Audience in India can also watch all the match action via live streaming online on Starsports.com and Star Sports Live Pro.
Watch the match live in Australia on Channel 9 and Fox Sports, with the option to live stream on Cricket Australia Live and Foxtel. Viewers can also download the Cricket Australia Live app and catch the match on mobile. Audience in Pakistan can watch the match live on PTV Sports and Ten Sports. All the quarterfinal action can also be live streamed on PTV Live and Ten Sports Live.
Audience in the UK can watch the match live on Sky Sports 2 and Sky Go, while the same goes for viewers in the US on ESPN and ESPN Cricket. Viewers in the Middle East can catch all the match action live on OSN, with the live streaming option on OSN Play.
Viewers in Europe can catch the CWC quarterfinal live on Euro Sport or Euro Sport Player, while audience in New Zealand can tune into Sky TV to watch the match live or log online to Sky Go NZ to live stream the action.