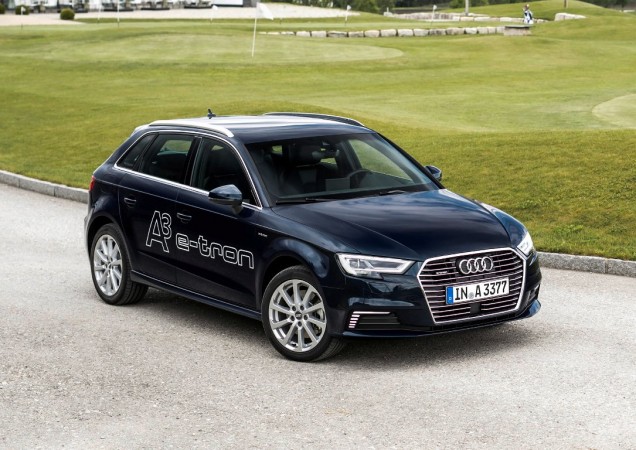 As concerns over pollution from vehicles are growing by the day, automakers around the world are working on new products that use alternative energy sources. Electric cars are considered as the best alternative and Audi is reportedly planning to enter India's electric car market space.
"In the coming years, you are going to see a refresh of our entire portfolio. There's also a lot of exciting things coming in terms of electrification," Joe King, head of Audi India, said to Autocar Professional.
King did not divulge on the company's electric or hybrid cars coming to India. Reports indicate the first model that might debut in India would be the A3 Sportback e-tron. The plug-in hybrid version, the Audi A3 Sportback e-tron combines a 1.4-litre TFSI engine that outputs 147.5bhp and delivers 250 Nm of torque, with an electric motor that produces 100.5bhp and 330 Nm. The system output of 201bhp is transferred to the front wheels via a newly-developed six-speed S-tronic transmission. The A3 Sportback e-tron accelerates to 100 kmph in 7.6 seconds and reaches a top speed of 222kmph.
Also read: Electric, Hybrid cars you can buy in India
Audi rival BMW already has the i8 hybrid sports car in India. The i8 is powered by 3-cylinder, 1.5-litre, twin-turbo petrol engine, in combination with an electric motor. The petrol engine generates a power of 227bhp and a peak torque of 320Nm and is mated to a 6-speed automatic gearbox transmission. The electric motor of the i8 is tuned to generate 129bhp of power and 250Nm of torque, taking the total output to 356bhp and 570Nm. The i8 is priced at Rs. 2.14 crore (ex-showroom, Delhi).
American electric car specialist Tesla Motors will also enter India with the Model 3 sedan unveiled earlier this year. The Model 3 is the most affordable car of the company and it is expected to be priced around Rs. 23 lakh in India. Its production is expected to start in late 2017.