Ather Energy, the Bengaluru based start-up that launched electric scooter, has christened the 450 and the 340 in June has started deliveries of e-scooter from Tuesday, September 11. Ather Energy invited some of the customers to its final assembly unit to take their Ather 450's home. Ahead of the e-scooter delivery, the company set up private charging stations at their residences.

Along with the delivery of the 450, Ather Energy has also revealed its expansion plans outside Bengaluru. The company will foray to Chennai in 2019. Ather has already started working on the charging network, AtherGrid in Chennai and expect to set up experience centre, AtherSpace by Q2 2019 which will be followed by other cities.
Ather Energy opened pre-orders for the electric vehicles in June along with the launch and inventory for 2018 has already been sold out. Ather Energy has priced the 340 at 1,09,750, on-road. The pricing includes FAME (Faster Adoption and Manufacturing of Hybrid and Electric vehicles) subsidy, costs for insurance, GST, road tax, smart card charges and registration fee. The range topping-topping variant christened as the 450 priced at Rs 1,24,750 (on-road).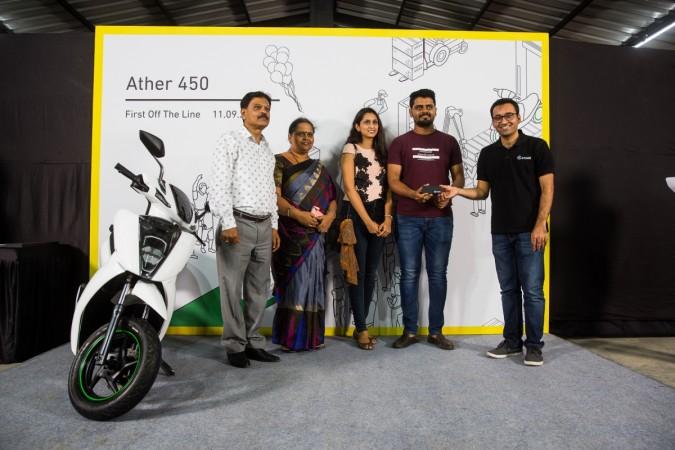 Ather 450, the flagship variant is powered by a 5.4kW electric motor churning out 20.5Nm of peak torque. It comes with a rated top speed of 80kph and a 0-40kph sprint time of 3.9 seconds. Ather 450 also comes with bigger 2.4kWh Lithium-ion battery that provides a 75km range in a full charge.
The base variant, Ather 340 draws power from a 4.4kW motor with slightly lower 20Nm of torque. The top speed is down to 70kmph and it takes 5.1 seconds to reach 40kmph speed. A 1.92kWh lithium-ion battery stores energy in the 340 and it has the range of 60km.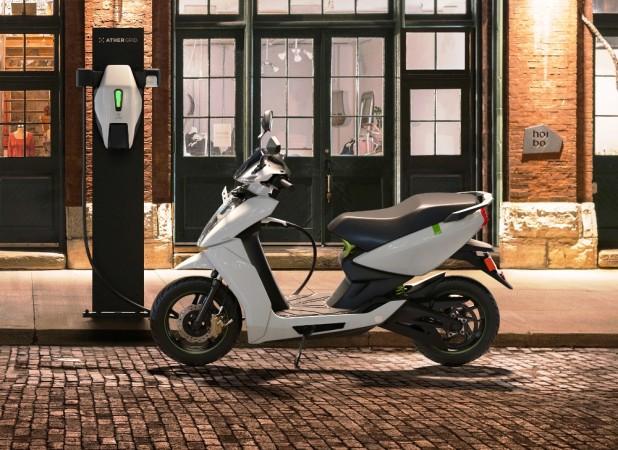 Both Ather 450 and 340 are identical in terms of styling, dimensions, features and both are offered only in white colour for now. The only differentiator between the 450 and 340 in terms of design is that the former will get a green coloured rim lining.
Ather 450 and 340 comes packed with a 7.0-inch capacitive touchscreen, adaptive LED headlight, GPS, over-the-air updates, charging station location tracking, custom user interface, diagnostic alerts, a parking assist function, combined brakes and others.