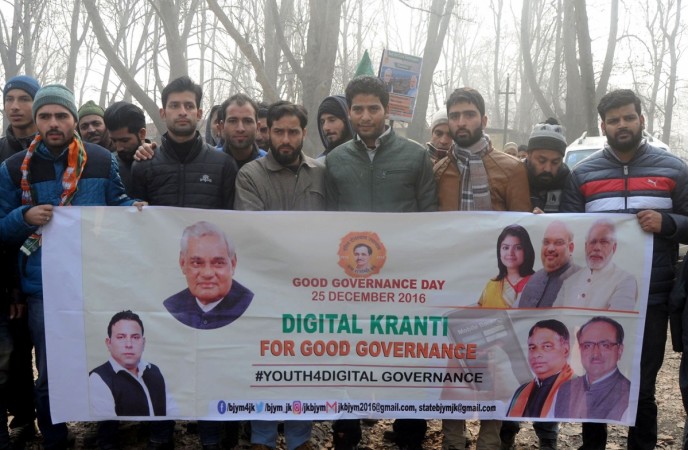 A controversial BJP leader from Aligarh landed herself in trouble again when she referred to the veteran BJP leader and former prime minister Atal Bihari Vajpayee as deceased on the eve of his 92nd birthday celebrations on Saturday.
Aligarh mayor Shakuntala Bharti embarrassed the party with her ignorance or slip of tongue on Saturday when she addressed students of Dharam Jyoti Mahavidyalaya School at Iglas in Aligarh. The event was being held to celebrate Vajpayee's 92nd birthday and Madan Mohan Malviya's 155th birth anniversary. Vajpayee's birthday is observed as 'Good Governance Day' and falls on Christmas, December 25th.
"Bharat ke purv pradhan mantri Atal Bihari Vajpayee ji hamare beech me nahin rahe, lekin unki yadein hai (Former PM Atal Bihari Vajpayee ji is no longer with us, but his memories remain)," she said, shocking other BJP leaders and other party leaders.
"This kind of statement is unacceptable," former Aligarh zila panchayat member and Bahujan Samaj Party leader Narendra Pachauri was quoted as saying by the Times of India. He added that Bharti should not make public speeches in future if "she is so ignorant".
After the incident o Saturday, Bharti said that she meant "Malviya ji not Vajpayee ji". When she was shown the video of her statement, she said, "I don't know how it happened. If I have committed a mistake, I regret it. I have great respect for Vajpayee ji and wish him a long and healthy life."
She said she was issuing an unconditional apology for the "inadvertent" mistake.
Bharti has been in the news frequently for her accusations against the Aligarh Muslim University. In February, she had claimed that a canteen in Aligarh Muslim University was serving beef. The blame was unfounded. She had also said that her main goals were cow protection and stopping 'love jihad'.
In the same month, she also levelled blames against the film Aligarh saying that it would tarnish the image of the city. It was based on the real-life events of a gay Muslim professor who taught in the university.
In June, she said that AMU officials had slaughtered a cow and demolished a small temple.
In July, traders in the city said she tried to "vitiate the atmosphere of communal harmony" after a trader was killed.