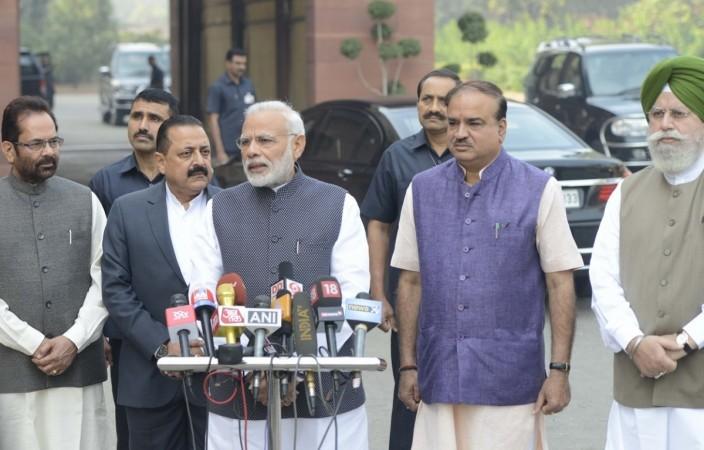 Prime Minister Narendra Modi took potshots at Congress Vice President Rahul Gandhi on Thursday during his Varanasi visit. He ridiculed Gandhi saying that now that he has spoken everyone knows there is no earthquake to come. He also took a jibe at Gandhi saying that he finally learnt to speak.
Before the Uttar Pradesh Assembly election in 2017, the BJP and the Congress conducted massive public gatherings.
The Central and State government launched multiple programmes and schemes in a bid to woo voters.
Congress, on the other hand, is leading the opposition against Modi's demonetisation move from which the country is still recovering. Gandhi recently levelled allegations of corruption against Modi, which the prime minister dismissed off.
3.30 pm IST: "Let us make sports an essential part of our lives," PM Narendra Modi in Varanasi.
1:20 pm IST: This land of Kashi is of spiritual importance and has tremendous tourism potential. It is also a trade centre. Today, Kashi is receiving various projects worth Rs 2,100 crore. I would like to congratulate Textile Minister Smriti Irani for making this happen in such a short span of time, PM Modi said.
1:02 pm IST: PM Modi distributed identity cards to the artisans in Varanasi.
1:00 pm IST: PM Narendra Modi inaugurated the Trade Facilitation Centre and Crafts Museum in Varanasi.
12:30 pm IST:
11:49 am IST: "Our army makes us proud but some people have questions even on their bravery. Is it good to view institutions like this," PM Modi said about surgical strikes.
11:45 am IST: "When they say large parts of India did not get access to education, whose report card are they giving," said PM Modi.
11:43 am IST: Everything is possible through online payments. We can win the fight against corruption and fake currency through digital payments. We can fight terrorism, naxalism, maosim, North-East insurgency through this, he said.
11:40 am IST: PM Modi takes a dig at Rahul Gandhi.
11:35 am IST: "Have faith in the strength of 125 crore Indians. The people of India are selfless. Blessings of people is like blessings of Almighty," PM Modi said.
11:31 am IST: "I never thought that some politicians and political parties would stand with corrupt," said Modi. "You must have seen the chaos in Parliament. Now I understood for whose benefit the melee is for."
11:30 am IST: "Indian doctors have distinguished themselves at the world stage," said Modi.
11:29 am IST: "We have a lot of human resource capability in India," PM Narendra Modi at BHU, Varanasi.
11:25 am IST: "Technology's intervention in medical science is growing. It has increased perfection in treatment," said Modi. "We're working on health insurance and health assurance. Swaccha Bharat Abhiyan is also related to healthcare," he said.
11:22 am IST: We thought, why not have a cancer research institute here itself. Why should patients from here have to travel far for cancer treatment, said Modi.
11:20 am IST: PM Modi lays foundation stone of Mahamana Pt Madan Mohan Malaviya Cancer Centre in Varanasi. "This institute will be at the level of The Tata Memorial Hospital in Mumbai," says PM Modi.
11:19 am IST: Chanakya's thinking was ahead of his times, says PM Modi.
11:18 am IST: PM Modi speaking live at Banaras Hindu University.
11:16 am IST: Humans will become robots if separated from art and culture, says PM Modi.
11:15 am IST: PM Narendra Modi reaches 'Rashtriya Sanskriti Mahotsav 2016' in Varanasi, Uttar Pradesh.
10:39 am IST:
10:36 am IST: PM Modi reaches Varanasi.
Prime Minister Narendra Modi will be addressing booth level BJP workers in the Varanasi Lok Sabha constituency. Preparations are under way for the rally.
The PM tweeted on Thursday saying that he will be joining various programmes on Thursday.
"Will lay the foundation stone for Mahamana Pt. Madan Mohan Malviya Cancer Centre & Centenary Super Speciality Hospital. Will inaugurate a Trade Facilitation Centre & Crafts Museum and launch schemes & programmes of @TexMinIndia during the Varanasi visit. Foundation stone for a ESI super speciality hospital will also be laid. All these development works will greatly benefit people of Varanasi. There will also be an interaction with booth level @BJP4India Karyakartas working in the Varanasi Lok Sabha seat. @BJP4UP," he tweeted.
Previously on November 19, he addressed people in a Parivartan rally in Kanpur. PM Modi also launched skill development initiatives for unemployed youth and lay a foundation stone for the Indian Institute of Skills in Kanpur.
"Apart from launching 31 Kaushal Kendras which will serve as skill centres and target mainly unemployed youth for training purposes, the Prime Minister will also inaugurate an exhibition named Kaushal Mahotsav," a senior official in the Ministry of Skill Development and Entrepreneurship had told PTI.