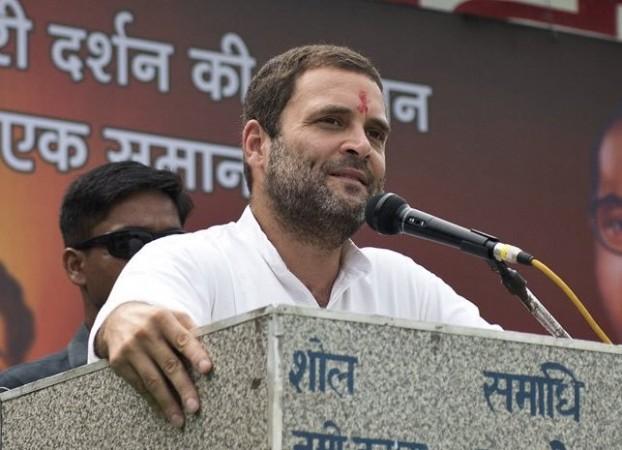 Congress vice-president Rahul Gandhi on Wednesday alleged that Prime Minister Narendra Modi had been bribed nine times over six months by employees of Sahara India, according to notes they made in their diaries.
He also said in Mehsana, Gujarat, that the I-T Department had knowledge of these dealings worth Rs 40 crore, for more than two years, but never acted upon them.
The BJP was quick to rebut the allegations. Union Minister of State for Home Affairs Kiren Rijiju made light of the allegations, saying: "Who takes Rahul Gandhi's remarks seriously? Even the Congress does not take what he says seriously."
Union Law Minister Ravi Shankar Prasad, however, was much more serious and direct. "Rahul Gandhi is leading his party to repeated disastrous defeats and is levelling baseless allegations in his sadness," he said.
Prasad's indication was towards the several Assembly and local body elections the Congress has lost since Rahul Gandhi was chosen as party vice-president.
People on social media, however, were tickled by the allegations, and heavily trolled both the Congress and Rahul Gandhi for the remarks. For starters, there was this individual who was pointing out the Congress's links to Sahara India:
Meanwhile, some were quick to point out that some other Sahara documents apparently showed a large amount of cash being paid to "Delhi CM", when the Congress's Sheila Dikshit was chief minister of Delhi.
The Congress's corruption seemed to be a common refrain:
Another person had something much more logical to say.
It may be noted here that Sahara chief Subrata Roy has been in judicial custody since March 2014 over violation of a Supreme Court order on paying back Rs 24,000 crore to investors.
Meanwhile, some people chose to simply brush off the allegations, and even a hashtag was coined: "#RaGaballoonburst".
Needless to say, the family name was dragged in. Then again, it was inevitable.
And of course old memes began to resurface: