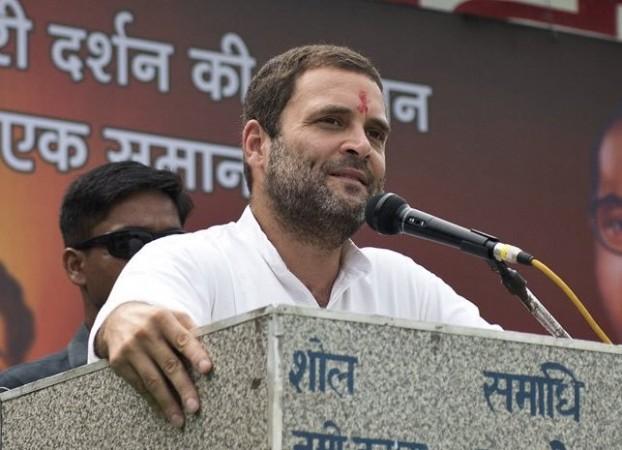 Congress vice-president Rahul Gandhi on Wednesday made a sensational revelation by saying that Prime Minister Narendra Modi had been bribed nine times over a course of six months by employees of the Sahara India, according to notes in their diaries. This could well be the tremor Gandhi was talking about last fortnight, saying there would be an earthquake if he was allowed to speak in Parliament.
Speaking at Mehsana in Gujarat — a state where assembly elections are due next year — Gandhi also said records of this monetary exchange to the tune of Rs 40.1 crore have been lying with the Income Tax (I-T) Department for more than two years, but no action had been initiated. He called for an independent enquiry into the allegations.
Rahul Gandhi told the rally: "Employees of the Sahara group wrote in their diaries nine times in six months that they had given money to Narendra Modi [when he was chief minister of Gujarat]. The I-T department raided the Sahara group on November 22, 2014."
He added: "The proof has been lying with them for two and a half years, and no action has been taken in this regard. An independent enquiry must be initiated into this."
Also read: Rahul Gandhi accuses PM Modi of bribery: BJP hits back and Twitter is amused
Details of the alleged bribery
The Congress leader then went on to detail how much Modi had received in bribe: "As per records with the I-T Department, Rs 2.5 crore was given to Modi on October 30, 2013, Rs 5 crore on November 12 , 2013, Rs 2.5 crore on November 27, 2013, Rs 5 crore on November 29, 2013, Rs 5 crore on December 6, 2013, Rs 5 crore on December 19, 2013, Rs 5 crore on January 13, 2014, Rs 5 crore on January 28, 2014, and Rs 5 crore on February 22, 2014."
As if on cue, Congress spokesperson Randeep Singh Surjewala tweeted out the amounts.
Is this the earthquake?
Rahul Gandhi had earlier said he had proof of corruption against PM Modi, and there would be an earthquake if he was allowed to speak in Parliament. This could very well be what he had been talking of back then.
If there is indeed proof that the I-T Department had proof of bribery against Modi and had been sitting on it for two years, it could lead to really uncomfortable situations for both the department and the prime minister. It could also adversely affect the Union government, which has been tom-tomming its scam-free image ever since it came to power in 2014.