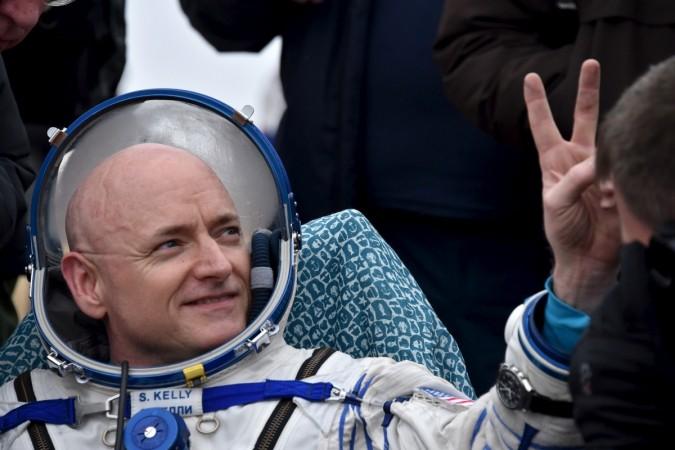 The US' National Aeronautics and Space Administration (NASA) astronaut Scott Kelly and Russia's Roscosmos State Corporation (RSC) cosmonaut Mikhail Kornienko landed in a desert in Kazakhstan Wednesday after living at the International Space Station (ISS) for 340 days. Another Russian cosmonaut, Sergey Volkov, who spent less time at the station, returned as well.
Kelly and Kornienko were selected for the year-long mission to study the effect of an extended stay in space on the human body. Kelly made a record in the US for spending the maximum consecutive days in space and the maximum days spent in space, which are 520. He and his twin, Mark Kelly — also an astronaut — are part of NASA's twin study programme where the duo's health will be analysed to find out what kind of changes occurred in Scott's body. NASA will spend years conducting tests on him. Kornienko and Kelly also studied changes to the human body and conducted experiments in space, reports FOX 59.
The tests are important if space agencies want to send humans to Mars or other long journeys.
Kelly is happy to be back on Earth, tweeted NASA Wednesday. He handed over command of the station Monday to Tim Kopra. The US space agency welcomed Kelly with a tweet: "Welcome home @StationCDRKelly! Your #YearInSpace helps ensure humans are "go" for our #JourneyToMars (sic)."
"I could go for another 100 days or 100 years," FOX 59 quoted Kelly as saying during his last briefing while in orbit.
Kelly and Kornienko had set off for the station in March 2015. They returned March 1, 11:25 p.m. EST aboard a Russian Soyuz spacecraft.
The American astronaut will be taken to the Houston's Ellington Field, a base used by the US military and NASA, from Kazakhstan.
The former commander of the ISS was quoted by FOX 59 as saying earlier the "hardest part is being isolated from people on the ground who are important to you." The astronaut will be studied for physiological and psychological changes.
He had also been quoted as saying by CNN the Earth looked "very, very fragile" from space and "like something that we need to take care of."