Priyanka Chopra broke a million hearts after she got engaged with beau Nick Jonas. On August 18, a traditional roka ceremony took place at Priyanka's Juhu residence in Mumbai which was followed by a lavish party for family and friends.
Her mother Madhu Chopra recently said that the couple has not decided on their wedding date. But did you know, an astrologer had predicted Priyanka's marriage 13 years ago?
Back in 2005, an Astro-numerologist Sanjay B Jumaani was quoted in an article published by Filmfare saying, "She's is likely to get married in her 36th year."
Jumaani had even predicted that Priyanka could taste success if she tries her hand in production. It wouldn't be wrong to say that it turned out to be true as Ventilator, which was first film produced under Priyanka's production company Purple Pebble Pictures, went on to bag several accolades and was also critically-acclaimed.
The movie won three awards at the 64th National Film Awards -- Best Director for Mapuskar, Best Editing and Best Sound Mixing. The film was also nominated in 16 categories at the 2017 Filmfare Marathi Awards including Best Film, Best Director for Mapuskar, Best Actor for Joshi, Best Supporting Actor for Gowariker and Best Supporting Actress for Kulkarni. It bagged awards in five categories, including Best Screenplay.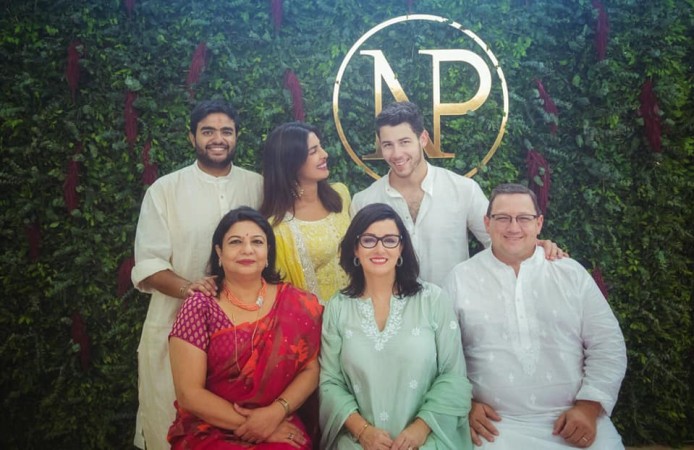 "She should never take the Aamir Khan route and be choosy about her roles. She needs to be constantly active to creatively channelize the excess energy Mars gives her. She could do well in the production department too, so long as she avoids partnerships. She is likely to get married in her 36th year. After the age of 45, she may show an interest in politics and is likely to succeed in it," Jumaani told Filmfare.
"Priyanka and Nick are Water and Earth signs respectively, and hence, are made for each other, just like Earth and water that always stay together. They have a lot in common too. For instance, 'Nick Jonas' adds to a 2 and so do 'Priyanka Chopra' and 'PC'. Furthermore, they are both governed by Moon (2) and Neptune (7). These affect the mental space and can cause mood swings. Therefore, I recommend yoga, pranayam and meditation for Nick, and yoga and exercise for PC which will help her keep calm," Jumaani was quoted as saying by The Times of India while speaking about things that are common between Priyanka and Nick.
Nick popped the question while they were celebrating Priyanka's 36th birthday on July 18 in London and the actress said yes. Speaking of the ring, the insider shared that the Jonas brother closed down a Tiffany store in New York City to buy the engagement ring.
While their marriage date is yet to be finalised, rumours suggest that Priyanka and Nick will be getting married in an intimate beach wedding in Hawaii.