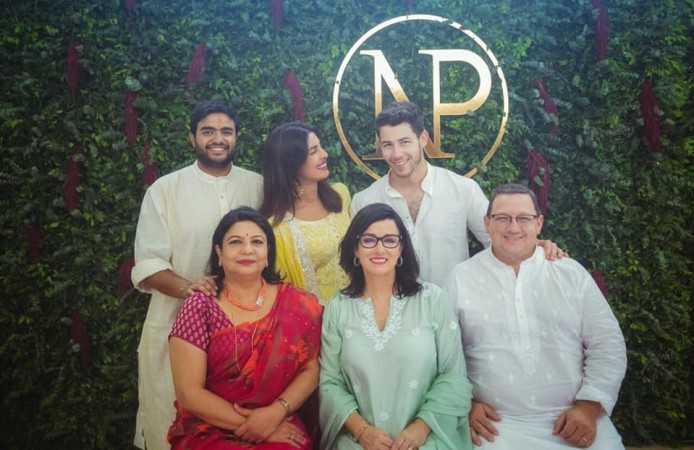 The Priyanka Chopra-Nick Jonas engagement took place in Mumbai on August 18 and Bollywood is still talking about it. The engagement and roka ceremony was held at the actress' Mumbai home in Juhu. But until Priyanka and Nick made it official by posting pictures from the ceremony on Instagram, everything about their relationship was more or less private.
Now Priyanka Chopra's mother Madhu Chopra has opened up about her daughter's engagement and having Nick Jonas as her son-in-law.
Priyanka Chopra quit Salman Khan's movie Bharat in order to get engaged to Nick Jonas, and so it was rumoured that she may be getting married as earlier as September 2018, around Nick's birthday.
But Madhu Chopra has refuted the rumours of a quick wedding of Priyanka Chopra and Nick Jonas, saying the couple will decide when to get married, as they still have work commitments. "They haven't decided on a wedding date yet. It's too soon. These are just baseless rumours. Both of them have work commitments right now which they need to finish. They will take some time to decide where they want it and when they want it," said Madhu Chopra while speaking to DNA.
On the engagement of Priyanka Chopra and Nick Jonas, and how the Jonas family adapted to Indian an traditional ceremony, Madhu Chopra said she had always wanted a roka and wants an Indian wedding for her daughter.
"My daughter knew I wanted a roka before the marriage, so she never said 'no'. I haven't forced any of my thoughts on her, but I Rdefinitely want a traditional Indian wedding. That's my only wish. I started the roka with a puja, which is important for me. I'm a modern mother but at heart, I'm quite conservative," said Madhu Chopra.
"Nick enjoyed the prayers during the puja. It was a new thing for him and he took it seriously. He followed what our panditji said, and chanted the Sanskrit mantras accurately. Both he and his parents did it beautifully. They are nice people," revealed Madhu Chopra about Nick Jonas and his parents taking part in the puja.
"Nick is calm and mature. He's a wonderful person and everyone in the family just loves him. He's so polite and respectful towards elders. What more can a mother want!" she gushed about her future son-in-law.
On Priyanka Chopra's decision to get married to Nick Jonas, a man 11 years her junior, Madhu Chopra said, "I always trust Priyanka's judgement; she's not impulsive. She gave it a lot of thought and when she decided on something, I was sure it would be good."
Pictures from the engagement of Priyanka Chopra and Nick Jonas went viral on social media. After the ceremonies were over, Priyanka Chopra and Nick Jonas shared pictures of their engagement on Instagram. Nick's parents Kevin Jonas Sr and Denise Jonas also shared sweet messages about the engagement and their India visit.
After their engagement, Priyanka Chopra and Nick Jonas spent time at the St Catherine's orphanage in Mumbai, where Nick sang for the children and Priyanka danced.