Stepping into the bandwagon of super luxury SUV, British luxury carmaker has named its first off-road vehicle as the DBX. If you are an Aston Martin aficionado, you may figure out the conceptual model of the SUV revealed at the 85th Geneva International Motor Show in 2015 had the same name. Yes, Aston Martin has essentially planned to continue with the concept name for the production-spec as well which is earmarked for the fourth quarter of 2019.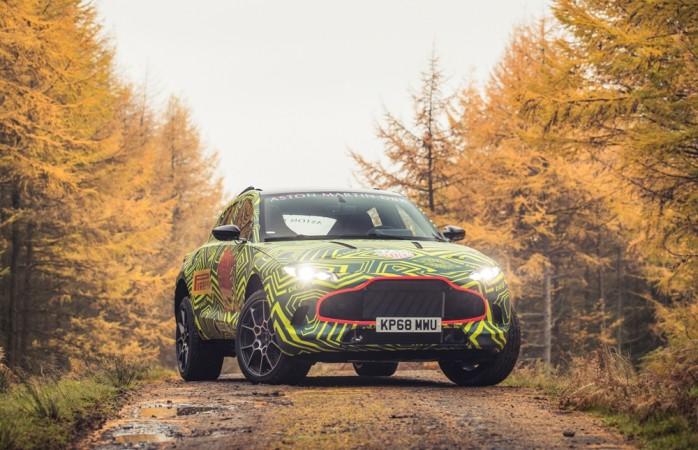 In addition, Aston Martin has also made the job of 'Carparazis' easy. The company has released the camouflaged images and video of the development prototype DBX during its testing in demanding Welsh Rally stage in the hands of the company's Chief Engineer, Matt Becker. Aston Martin claims the DBX prototype will tackle some of the world's harshest environments, from the frozen Arctic and scorching deserts of the Middle East to high Alpine passes and the high-speed demands of the German autobahn and Nurburgring Nordschleife.
Camouflaging means, there is very few stuff to spot. The most obvious feature is the new V8 Vintage-style grille. Even the headlamp looks similar to the new Vantage. The overall silhouette confirms a lot of unfinished business under the camouflage while the vehicle has huge ground clearance, thanks to massive wheels. The pictures suggest the DBX will get a funky rear with protruding tail lamp section and two spoilers- one extending from the roof, then another ducktail unit. Since this is a prototype the actual DBX may miss out some of the spotted.
Aston Martin will manufacture the DBX in the second plant at St Athan in Glamorgan, Wales. The new plant will become the 'Home of Electrification' when the marque's fully-EV models enter production. Hence, there is a possibility that the DBX also rolling out with an electric heart.
Aston Martin showcased the DBX concept with Drive-by-wire electric steering, bespoke driver and passenger head-up displays, LED exterior lights, carbon ceramic brakes with a kinetic energy recovery system (KERS) and rearview cameras in place of conventional mirrors. Among these, what all will make it to production spec remains to be seen.