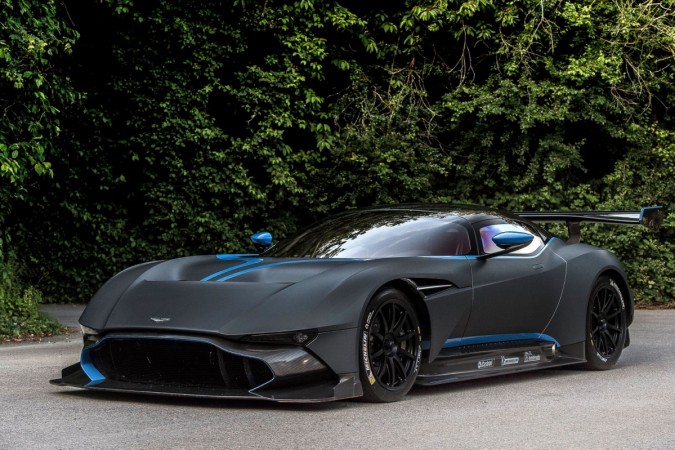 When you talk cars, Aston Martin is one brand that instantly strikes your mind. The luxury automaker reinforced that image recently, when it announced its all-new supercar Vulcan.
The stunning beast made its debut earlier this month at the Goodwood Festival of Speed in England and it has everything a car enthusiast would dream of. To tease fans further, Aston Martin released new images of the 2016 Vulcan and they are sure to blow your mind.
The Vulcan retails for a whopping $2.3 million, exclusive of taxes. But it's not just the hefty amount that will keep you away from buying this next-gen supercar.
According to media reports, Aston Martin plans to make this model more exclusive than the limited edition One-77. Only 24 units of the Aston Martin Vulcan 2016 will be produced.
"A sports car for true sports car lovers, I believe the Aston Martin Vulcan -- and the unique ownership programme that sits behind it -- sets a whole new standard in the ultra-high luxury supercar class," ASton Martin's CEO Andy Palmer said in a press release.
The incredibly-looking supercar, which is meant only for tracks, is almost entirely constructed of carbon fiber and packs a whopping 800-horsepower V12 engine.
Even if you manage to get your hands on the Vulcan 2016, there is a special track driver training before you get behind the wheel, according to earlier reports.
The Aston Martin Vulcan 2016 can bolt from 0-60 mph in less than three seconds. It'll top out at 200 mph.
More than its powerful specs under the hood and outstanding design cues, Vulcan 2016 defines the future of what supercars would look like.
The Huffington Post refers to the car as a "carbon fiber dream." Automakers have to trying for sometime now to venture into the world of carbon fiber to increase fuel efficiency, but have faced a lot of hurdles, cost being the biggest one.
Though the material is 10 times stronger and 75 percent lighter than steel, it is also expensive. This results in manufacturers having to price their models higher. Aston Martin clearly nails it with its Vulcan masterpiece.
The flip side to the Aston Martin Vulcan 2016 is that it is a track-only car and doesn't come with air conditioning, an in-built stereo system or even leather upholstery. All the strip-down is to make the supercar extremely fast.
In other news, Aston Martin is also planning to introduce the world's most expensive sedan. The company announced that the Lagonda Taraf, originally aimed solely at the West Asian market, is now being produced in right-hand drive format for other markets. The sedan will sell for about $780,000, according to Driver.com.
Check out the great-looking Aston Martin Vulcan below: