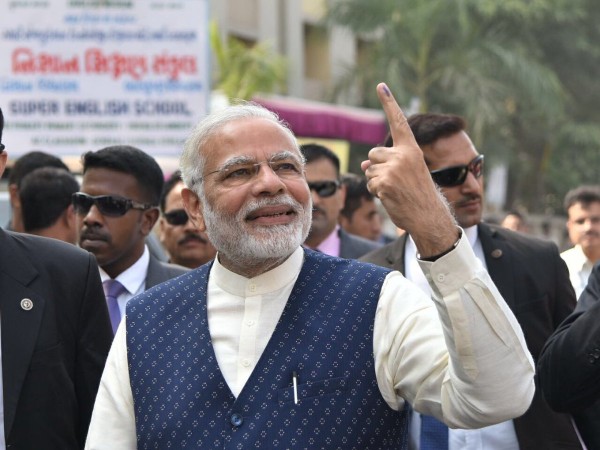 The counting of votes for the 2017 Gujarat and Himachal Pradesh Assembly elections is still taking place, but social media users have already declared Prime Minister Narendra Modi-led Bharatiya Janata Party's (BJP) a "big winner" and trolled Rahul Gandhi.
The BJP is leading in Gujarat and Himachal Pradesh and is poised to emerge as the winner in both the states. In Delhi, the workers have also started to celebrate, as trends indicate that BJP is inching closer to victory in both the states.
Also Read: After Gujarat and Himachal Pradesh elections 2017, how many states are BJP and Congress ruling?
Not only the workers, but even social media users celebrated the victory. Twitter was flooded with ever-sarcastic and humour-seeking tweets. From hacking EVMs to calculating GST, thousands of funny and witty tweets were shared on the social media platform. In fact, #GujaratVerdict, #ElectionResults2017, #GujratResults and #HimachalPradeshElections are the top four topics that are dominating India Twitter trends since Monday morning.
BJP spokesperson for Delhi Tajinder Bagga shared a photo of a cake with mushrooms' image on top and took a sarcastic dig at the rival party. During the poll campaign, Rahul Gandhi led Congress' ally Alpesh Thakore said that Modi consumes imported mushrooms that gives him a fair complexion.
The mushroom is said to be worth Rs 4 lakh. Taking a dig at Thakore's comment, Bagga distributed the mushroom cake and said it will clean black hearts.
Check out what social media users have to say about the Gujarat and Himachal Pradesh Assembly elections results:
Satish B: After a humiliating loss, CONgress sympathizers are now saying loss is fine but "RAHUL has come of age" This is called putting your money in a sinking ship!
Vishwa Nigam: #GujaratVerdict @INCIndia HQ: Spokepersons are confused whether they should call it a moral victory under @OfficeOfRG leadership or blame #EVM. Suggestion: blame EVM for #Himanchalpradesh and praise #RaGa for Gujarat. #BalancingAct
Siddharth Kumar Singh: Where are all those who criticize Demonetisation and GST. Don't they vote?
7 states went for election in 2017 and BJP has won 6 of those states. #GujaratVerdict
CA Ankit Varshney: 6th winning in a row. It means there is no anti incumbency. #GujaratVerdict
The VVIP: 9:00am: Congress supporters were shouting Congress aave che aave che. 10:00 am: Gujarat people replied Congress ghanto aave che.
Achal Gautam: As per Election commission website, BJP till now has got 49.2% votes compared to 47.9% votes in 2012 & after 22 years in power. A lion will always remain on lion and he is unstoppable in his home turf. #GujaratVerdict
When Life Gives You Rahul Make It Dravid Not Gandhi.
When Life Gives You Hardik Make It Pandya Not Patel. ???#GujaratVerdict #ElectionResults2017 #GujratResults

— shaiwal mehta (@10Shaiwal) December 18, 2017
Amit Shah targeted 150
28% GST on 150 = 42
Gujjus delivered 108
#GujaratVerdict #Explained

— Shaitaan Khopdi™?? (@shaitaankhopdi) December 18, 2017
Congress after exit polls announcement: BJP is tampering EVMs

Congress today morning (when Congress was leading): Its Rahul Gandhi's victory

Congress now : BJP is tampering EVMs
??
#GujaratVerdict #GujaratResults

— Narasimha Teja (@Tej_NARD) December 18, 2017
#GujaratVerdict is a lesson for the BJP
*Don't take Hindu votes for granted. Hindus don't vote en mass like other faiths.
*Don't dilute Hindu & national interests.
*Book corrupt from previous regime as promised.
*People are not impressed with your smart one liners on TV studios.

— Borah (@BorahBedabrata) December 18, 2017
Ok. 16/16 from Surat for BJP. A Hugh thumbs up for GST. Surat, residence of major businesses in Guj, Congress was banking heavily on. #GujaratVerdict

— Ajay Kumar Gupta (@_ajaykumargupta) December 18, 2017
If BJP wins 150 seats : EVMs are Tampered.
If BJP wins 120 seats : BJP plays communal politics.
If BJP wins 100 seats : Its a moral victory for Congress.
If BJP loses Gujarat : Its a victory of Democracy. #GujaratVerdict#ResultDay#RahulGandhi #GujaratResults

— Upendra K Singh (@KumarupenS) December 18, 2017
After 22 years in power and after GST, the effect of which was most profound in a business state like Gujarat, BJP winning by any margin is HUGE.
22 yrs of incumbency+ Demonitisation+ GST, yet crushing his opponents.
Another L for RG.#GujaratVerdict

— Sri Bhargav (@iamsribhargav10) December 18, 2017
BJP automatically hacked EVM after 9AM, before it was a democratic process.
#GujaratResults#GujaratVerdict#ElectionResults
#

— Chichora (@roheetsngh576) December 18, 2017
Strongest Patidar leader like Keshubhai Patel couldn't shake Modi Govt, How can anyone think Porn star Hardik Patel will ??#GujaratResults #ElectionResults2017

— Narendra Verma ®™ (@bnarendraverma) December 18, 2017
I wonder whether Rahul Gandhi is still going to be called PAPPU after the effective leadership in PM's Home State? Think about it. #ElectionResults #GujaratVerdict #ElectionResults2017 #GujaratResults

— Brijesh! (@BrijeshKVaghela) December 18, 2017
9 :00 AM
Congress: 58
BJP: 34
ಕಾಂಗಿಗಳು:- EVM ok. ??
9:40 AM
Congress : 70
BJP : 44
Congress:- EVM wonderful?
10:20 AM
BJP 105
Congress :75
Congress: EVM hack ??#ElectionResults2017 #GujaratResults

— Girish Chandrasekhar (@pysgirish) December 18, 2017
Hardik patel already started working on his next 'Video Project '... Followers drooling!#GujratVerdict#ElectionResults2017#MondayMotivaton

— Metalhead?Akash (@metalheadAkash) December 18, 2017
EVM is thanking political parties for not blaming him for defeat in Gujarat . People's verdict wins ..." yeh public ha sab jaanti ha ."#gujaratverdict #ElectionResults2017

— Shyam Sharma (@Shaayam) December 18, 2017
- Ricky Ponting had a spring in his bat. ?

- Undertaker had 7 punar janams. ??

- EVM was hacked. ????#ElectionResults#GujaratVerdict #Congress #BJP #GujratResults

— Dhawal Odedra (@Dhawal_Odedra) December 18, 2017