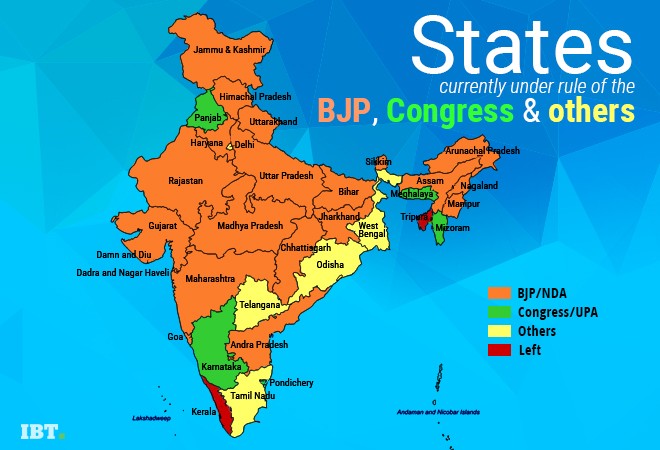 The BJP returned to power in Gujarat and wrested control of Himachal Pradesh (HP) from the Congress on December 18, as the counting of votes from the Assembly elections in both states were announced.
The BJP — either individually or through alliances — is now in power in as many as 19 states and Union Territories across the country. With the HP win, the BJP has broken the 24-year-old record of the Congress, when it had held 18 states, according to a News 18 report.
The win also means the saffron party is another step closer to its mantra of "Congress-mukt Bharat" — a Congress-free India — as the year 2017 comes to an end.
With the BJP winning HP, almost all of North India is ruled by the saffron party or its allies now. The only exception is Punjab, where the BJP-SAD alliance lost to the Congress in elections earlier this year.
The BJP also managed to strike an alliance with the JD-U in Bihar in July this year. This in effect edged out the RJD and the Congress, which had formed a government with the JD-U after the 2015 Assembly election in the state.
This effectively means that besides forming a government in Uttar Pradesh, Uttarakhand, Punjab, Goa and Manipur in the early months of 2017, the BJP managed to come to power in two more states in 2017 that it did not already rule.
Here is the full list of states that the BJP, the Congress and other parties rule, along with their allies.
| | | | |
| --- | --- | --- | --- |
| States | BJP/NDA | Congress/UPA | Others |
| Jammu & Kashmir | Yes | No | PDP |
| Himachal Pradesh | Yes | No | -- |
| Punjab | No | Yes | -- |
| Haryana | Yes | No | -- |
| Uttarakhand | Yes | No | -- |
| Uttar Pradesh | Yes | No | -- |
| Rajasthan | Yes | No | -- |
| Maharashtra | Yes | No | Shiv Sena (NDA) |
| Madhya Pradesh | Yes | No | -- |
| Chhattisgarh | Yes | No | -- |
| Gujarat | Yes | No | -- |
| Goa | Yes | No | MGP, GFP |
| Karnataka | No | Yes | -- |
| Kerala | No | No | LDF |
| Tamil Nadu | No | No | AIADMK |
| Puducherry | No | Yes | -- |
| Andhra Pradesh | Yes | No | TDP (NDA) |
| Telangana | No | No | TRS |
| Odisha | No | No | BJD |
| Jharkhand | Yes | No | -- |
| Bihar | Yes | No | JD-U |
| West Bengal | No | No | TMC |
| Sikkim | Yes | No | SDF (NDA) |
| Delhi | No | No | AAP |
| Arunachal Pradesh | Yes | No | No |
| Manipur | Yes | No | NPP, NPF (NDA) |
| Mizoram | No | Yes | -- |
| Meghalaya | No | Yes | -- |
| Tripura | No | No | Left |
| Nagaland | Yes | No | NPF (NDA) |
| Assam | Yes | No | -- |
| Total (31) | 19 | 5 | 7 |