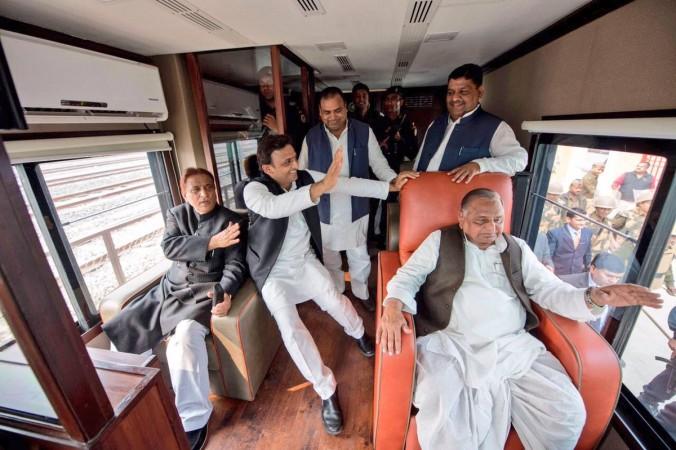 Samajwadi Party (SP) president Mulayam Singh Yadav took back his son and Uttar Pradesh Chief Minister Akhilesh Yadav into the party fold on Saturday, a day after suspending him for six years from the party for "indiscipline." He also took back Akhilesh loyalist Ram Gopal Yadav, who had also been suspended for six years from the SP.
The development came after hours of high drama, hectic political parleys and hasty meetings, including one between Mulayam and Akhilesh himself. However, a third and independent political figure is believed to have played peacemaker between them: Rashtriya Janata Dal chief Lalu Prasad.
Mulayam's brother Shivpal Yadav, with whom Akhilesh has had quite a few tiffs, announced on Saturday afternoon following the aforementioned father-son meeting that Mulayam had ended Akhilesh and Ram Gopal's six-year suspension with immediate effect.
He also said Ram Gopal had put on hold the national executive meeting he had called. It was this meeting that had put him on the wrong side of Mulayam. Shivpal added that now Mulayam and Akhilesh will sit together to finalise the list of candidates for the upcoming UP Assembly elections. It was this list that had been the latest catalyst of the rift between the father-son duo.
Lalu Prasad played peacemaker
It is believed that RJD leader Lalu Prasad played peacemaker between Mulayam and Akhilesh. He told reporters on Saturday afternoon before Akhilesh was reinducted into the SP: "There is a huge turmoil in UP. I am worried about it, and that's why I had called Mulayam at 8 am."
He added: "I reminded him Akhilesh was his son, and that he had built both Akhilesh and the party. Thus, the responsibility of handling them was on him.
Lalu said after Akhilesh's return to the SP: "I am really happy. I was hopeful [that this would happen. The SP will form government in UP again, and if there's an alliance with tje Congress, it will be even better."