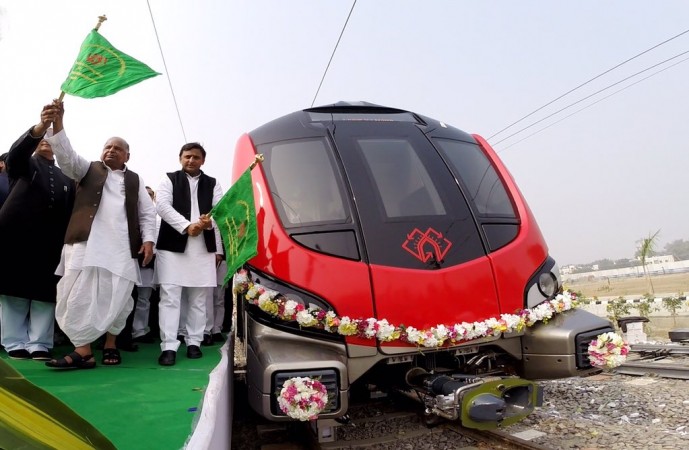 The rifts within the Samajwadi Party (SP) are beginning to show again, this time with party chief Mulayam Singh Yadav and his son and Uttar Pradesh Chief Minister Akhilesh Yadav sparring on tickets for the upcoming UP Assembly elections. And one party is waiting in the wings with a twinkle in the eye and a spring in the step, ready to pounce on the situation.
That party is the Congress, which has been looking to make its mark in this politically important state, where it has been out of power for nearly three decades now. After all, both Congress and Akhilesh have been eyeing an alliance, and the Congress wants this coalition more than the SP or Akhilesh.
However, that possibility was scotched when Mulayam said recently, while announcing the SP's list of 325 candidates for election to the 403-member Legislative Assembly, that the SP would fight the elections alone. Akhilesh, it seems, was unhappy about the people chosen to contest the elections, and has reportedly decided to announce his own list of candidates, where 167 of those loyal to him will contest elections.
How this helps the Congress
This divide effectively means Akhilesh could be seceding from the SP and possibly launching his own party. Even if he and his men decide to contest as independents, they will need a different election symbol. And even if the incumbent UP chief minister manages to win a good chunk of the seats, he will still need more seats to form government.
This is where the Congress comes in. The party has been looking to play kingmaker in the state that has sent the most number of prime ministers to power, including current PM Narendra Modi, who was elected to the Lok Sabha from Varanasi. Now, the Congress is not in a position to hold such clout in UP in its current situation, and therefore it needs an alliance of its own.
This makes the Akhilesh-Congress alliance all the more likely. And while it weakens the SP to quite an extent — many sitting MLAs may side with the current chief minister — it does help both Akhilesh and the Congress, because they both may be finally getting what they want.