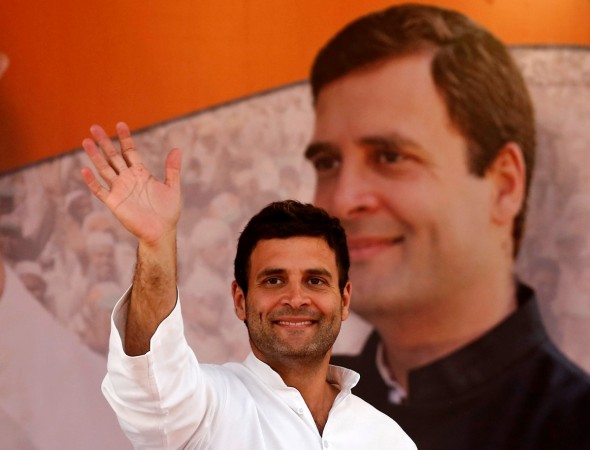 The exit poll results for the Assembly elections in five states that took place in February and March came out on March 9, and although there was a lot in those predictions to make the BJP supporter happy, it was the same-old angst for the Congress or more specifically – the Gandhi family.
Although the Grand Old Party was slated to do well in Punjab and Manipur (the predictions for the north-eastern state are more split though), the forecasts for the Congress in Uttar Pradesh sounded more like a death knell.
Despite being in an alliance with the ruling Samajwadi Party (SP), the party is not in the reckoning to beat the BJP.
Congress underestimated coalition politics in 1998
In 1998, when Sonia Gandhi took up the reins of the Congress, after it underwent a period of turmoil under a few non-Gandhi leaders, the party imbibed the belief that coalition politics would be just a temporary phase and the party needed to see coalitions just as short-term tactics.
At the Panchmari session, held in September that year, the party took the stand that coalitions would be considered, only when absolutely necessary, and they would be made on the basis of agreed programmes that would not affect the Congress party's ideology.
Sonia stressed on that occasion that the Congress would not compromise on its basic philosophical tenets.
The Congress's line of thought 19 years ago had a tinge of superiority complex, one would say. Having dominated the country's political scene since Independence, the sentiment was understandable.
In 2017, Rahul Gandhi has proved himself to be a liability for both Congress and its allies
But in 2017, when we judge the same party's stand vis-a-vis the Panchmari declaration, we see the party has not just become a joke, but has found itself untenable, even in alliances with other parties.
It is difficult to predict why Uttar Pradesh's Chief Minister Akhilesh Yadav decided to make an alliance with the Congress, led by a hapless Rahul Gandhi, for the crucial elections this year, but let's face it: Rahul Gandhi is not just a liability for his own party, but even for the allies he picks to fight elections with.
Rahul shared the stage with former Left CM of Bengal in 2016; the Left was routed
In 2016, the Congress vice-president was both criticised and ridiculed after he shared a stage with the former chief minister of West Bengal -- Buddhadeb Bhattacharjee to boost a strange tie-up between the Congress and Left Front to defeat Trinamool Congress supremo Mamata Banerjee.
It was a scene that many grassroots workers struggled to digest, for the Congress and the Left have been age-old rivals.
Yet, Rahul Gandhi went ahead with the alliance and the Left was reduced to ashes in the subsequent election. Its seat-share fell from 62 in 2011 to 27 in 2016 while the TMC took its own tally beyond 210 out of 294 seats.
In J&K, the National Conference did not gain by partnering with Rahul
The same is predicted in UP this year as well. Forget a turnaround, an alliance with Rahul's Congress is predicted to deliver a body blow to Akhilesh Yadav.
In the past, we have also seen Rahul Gandhi joining hands with the local 'youth leader' Omar Abdullah in Jammu & Kashmir and a lot being written about their pairing and the consequences it could have for the state's election.
But the National Conference did not benefit from the tie-up and decided to pull out of it ahead of the state elections in 2014. It lost power as well.
Whether Rahul is honest or hard-working doesn't matter; all that matters is the perception
The Rahul factor has become such an eyesore for voters that the Congress can only slide further downhill if it continues to operate under him. Whether Rahul Gandhi is an honest politician and really works hard for his party's welfare doesn't really matter because what matters the most in politics is perception.
And in this era of Narendra Modi, Rahul Gandhi is perceived to be a non-entity. It's time the Congress learns this fact if it wants to survive in Indian politics.
Rahul Gandhi has been an unmitigated disaster
Rahul Gandhi has led his party in a number of elections thus far, including a general poll, and he has not been able to produce a single result to his favour.
A slight upturn was in Uttar Pradesh in the 2009 Lok Sabha election when the Congress finished second in the state, but it was an exception.
On the whole, Rahul Gandhi has not succeeded in leading his party to victory in a single election to date. He has been an MP since 2004 and 13 years is quite a long time to script at least one success story.
The two problems with Rahul Gandhi
Rahul Gandhi's biggest limitation has been his identity crisis. Who does he actually represent? Hailing from an elitist family, Rahul Gandhi has tried to don the mantle of the common man to find political mileage.
It is a tactic that may have worked in the days of his grandmother and father, when India was still a closed society, verging on agrarian.
Today, his ruraal pandering is construed as 'faking it' because India and Indians have changed.
Rahul has not succeeded in understanding this, while his arch enemy Narendra Modi has. Not just the substance, Rahul has failed even in style.
Rahul Gandhi's second disadvantage has been his hesitancy in taking up the role as an administrator. The man, unlike many other politicians in contemporary India including Modi, has never served in a position of responsibility. This has added more negativity to the perception about Rahul Gandhi as a leader.
Whenever he takes on Modi and his government on any policy issue, the common question that erupts is: "What has he done as a responsible administrator? Nothing." He and his party should have remembered that the days of 'blue blood' in Indian democracy are over.
Rahul Gandhi and his party have wasted a lot of time on what to do next. Perhaps because they never had confidence in their chances. But whatever it is, one really wonders why other parties still hope they can bank on Rahul Gandhi as an alliance partner, and end up shooting themselves in the foot?
The Congress's Rahul story could be over early on March 11. And with him, Akhilesh's career could sink as well.
RaGa vs NaMo (since 2012 Gujarat polls)
State (year)
Rahul
Modi
Karnataka (2013)
won
lost
Meghalaya
won
lost
Chhattisgarh
lost
won
Madhya Pradesh
lost
won
Rajasthan
lost
won
Lok Sabha (2014)
lost
won
Andhra Pradesh
lost
won
Maharashtra
lost
won
Haryana
lost
won
Jharkhand
lost
won
Jammu & Kashmir
lost
won
Bihar (2015)
won
lost
Assam (2016)
lost
won
Puducherry
won
lost
Besides in states where the Congress lost to the BJP, it also lost in states like Tripura, Nagaland (in 2013), Delhi (2013 and 2015), Telangana, Odisha (in 2014), West Bengal, Tamil Nadu and Kerala (in 2016) to various regional parties.